ABOUT THIS YEAR'S AWARD
At Art Edit magazine, our mission since inception has been to help artists find new, appreciative audiences in the pages of this magazine and among Art Edit's digital readership. Yet so much of the artwork that crosses our desks every day deserves still wider recognition, most particularly from curators, gallery directors and public art institutions. This is why, in October 2020, we launched The Art Edit Self-Represented Artist Award. Now in its third iteration, the award has seen winning and finalist artists gain recognition from industry leaders and contemporary art collectors. This year's prize attracted a vast array of thought-provoking and creative interpretations of the theme The Stories We Tell. Narrative is the way we understand the world. The stories we tell ourselves and others define us, shape us and sometimes inspire us. Culture, community, social issues and our very sense of self is articulated through the stories we think, dream, speak, write, paint, sculpt, draw, weave and sing. The response from artists was fantastic, the quality of the work and talent of the participating artists remarkable, and the decision-making process difficult for our panel of judges to whom we left the final call.
We're delighted to present the work of the winner of the third Art Edit Self-represented Artist Award, Ramak Bamzar, with Niloofar, 2022, a work which tells the story of the cultural dominance of masculinity and influence of visual culture on women's bodies. The judges also highly commended artists Ysabel Darling for her oil and acrylic on linen work Good girl, Jayden, 2022; Kate Stehr for her sculptural installation Scribing Tools I, 2021; Ian Thomas for his diptych Magnificence, 2022; and Fran Romano for her ceramic work Loculus I, 2021. And finally, special commendation was also awarded to the following artists: Chyna Lily Rawlinson, Te Kahuwhero Alexander-Tu'inukuafe, James Stickland, Sha Sarwari, Billy Vanilli, Devena Wikmunea, Derrick Butt, Kate Durham, Emma Pattenden, Judith Anya Samson and Miguel Villanueva. This year's judging panel consisted of artist Lindy Lee; artist, writer, poet and Wiradjuri woman Jazz Money; founder of The Other Art Fair Ryan Stanier; and interior designer Alexandra Donohoe Church. All commendations are written by Rose of Sharon Leake. Stay tuned for the announcement of the theme for the 2024 award.
WINNER
The winner of this year's Art Edit Self-represented Artist Award Ramak Bamzar serves up an expression of pain, political unrest and social struggle. Erin Irwin writes.
For judge Lindy Lee, Australian-Iranian artist Ramak Bamzar's winning work Niloofar, 2022 entails a "frisson of discomfort" as we bear witness to an animal's head ready to be devoured by a perfectly groomed woman. When asked where she finds inspiration for her vivid photographic tableaus, Bamzar states that "to me, this question hardly even makes sense. All my inspiration comes from life." She elaborates that these women, with their bright regalia and magnetic gazes, come from "living and loving, from my psyche, from my memories, and particularly my experience as a woman who grew up in an authoritarian, theocratic society." Born in Tehran, Bamzar found that the creativity she had nurtured from a young age was stringently curtailed, given her longstanding fascination with femininity and the female form. The representation of women in art and media was strictly regulated in Iran, and this suppression was not constrained to the arts: "Unsurprisingly, an authority that does not accept the display of women's bodies does not respect women's rights either, and this is what so many women and men are – right now – fighting for in Iran." Thus, the artist's move to Australia has allowed her practice to blossom, forming a thoroughly considered and purposeful approach to artmaking. Bamzar's work Niloofar is part of her series Moustachioed Women and Rhinoplastic Girls, wherein she explores the social and psychological impacts of fundamentalism upon the female experience. These women, whose existence is dominated by the male gaze, stare unflinchingly back at their audience. Each of Bamzar's works are painstakingly staged, with each component receiving individual attention, backed by extensive research and deliberation. "This beautifully composed photograph is delicate yet bold, both personal and political," comments judge Jazz Money. "The artist brings a deft and incisive narrative hand to the image without being didactic. The photograph feels both timely, and timeless, the direct gaze of the figure commanding the audience in the here and now." "I don't just snap photos off," says Bamzar. "Staging allows me to make careful and particular choices to control every element and to give the impression
of spontaneity. I like to try and create, or re-create, everything I need in an image."
Textiles in particular are chosen with great care. In Niloofar, the sitter's headscarf mimics the intensity
of her fixed stare, her blue eyes rimmed with pink petals matched perfectly with her pristine blue nail polish and eyeshadow. It calls attention to the act of looking, playing on clothing as being both revealing and concealing. Colour plays an important role here, the bright, almost innocent colour scheme of the subject's clothes and setting contrasting with the plate set before her. She is perfectly put together, impeccably presented before the audience she sits before as she ingests the gruesome meal she has been provided with. She is internalising, very literally, the fruits of her experience. "I find myself compelled to create about issues that really matter to me," Bamzar says. "I am most creative about a subject I care about; when I desperately need to express my pain, or my opinion." Bamzar completed her Master of Fine Arts at the Royal Melbourne Institute of Technology last year, and is currently working on a series about the rebel women of Iran as a continuation of Moustachioed Women and Rhinoplastic Girls, as well as undertaking a memorial for those who have given their lives in the recent upheavals that have shaken the country. Moustachioed Women and Rhinoplastic Girls is set to be exhibited in 2023 at Blindside Gallery, Melbourne, Seventh Gallery, Melbourne, the Art Gallery of Ballarat, and the Ballarat International Foto Biennale. The works of Bamzar are a powerful expression
of her experience, creating compelling narratives concerning control, dominance and individuality. One cannot help but meet the eyes of the characters who populate her tightly-produced photographs, drawn in by the force of their presence, provoking both empathy and discomfort. In her commitment to staging these images with diligence based on exhaustive research, the artist has effectively distilled within them the intensity of her convictions, conveying a profound truth about what it means to be a woman.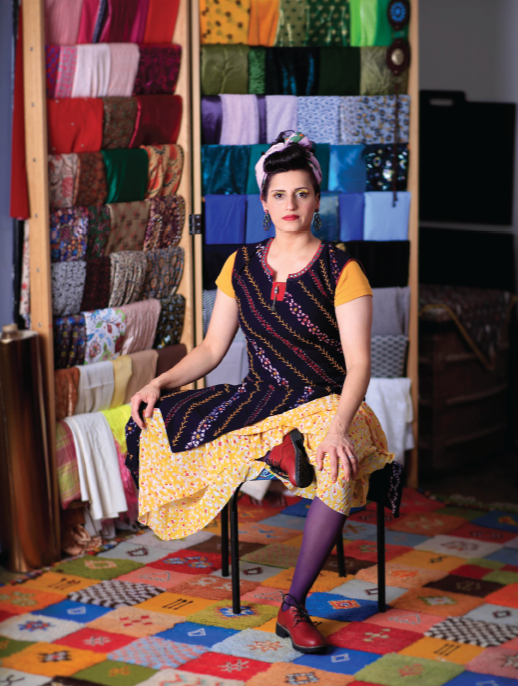 HIGHLY COMMENDED
Kate Stehr
"[This work] is beautifully crafted with a great sensitivity to the materials, which appropriately match the concept. Outstanding," writes judge Lindy Lee of Kate Stehr's sculptural installation Scribing Tools I. For Wollongong-based Stehr, the objects of our everyday lives tell stories of our existence and recount the historical narratives that are at the foundation of our culture. Reinterpreting and retelling traditional narratives for contemporary audiences, Stehr envisages the absurdist brushes and styluses from her Scribing Tools series in action, dipped in ink and scrawling marks across a surface to document traditional tales. "Kate's work is centred around looking at ways to keep cultures alive and pass on the stories to a contemporary audience," says judge Ryan Stanier. "The objects are intriguing and beautiful. I was left wanting to know more." Stehr has a number of upcoming exhibitions in 2023, including a solo exhibition in April with Weswal Gallery, Tamworth.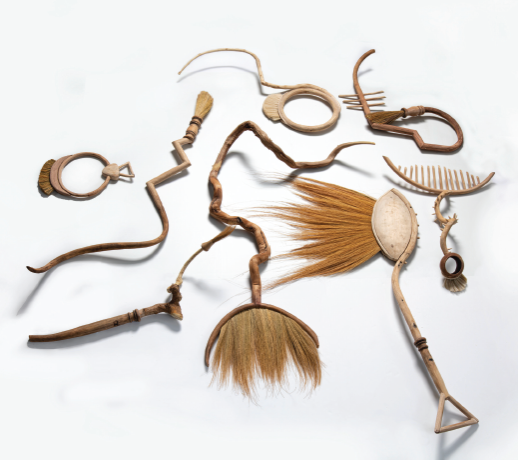 Ysabel Darling
"Ysabel Darling explores the idea of how society expects women to behave and to stay quiet," remarks judge Ryan Stanier. "Her images are interesting, powerful and clear, they also evoke emotions of anger and frustration." Darling's oil and acrylic on linen Good girl, Jayden examines how women and girls are silenced or taught to silence themselves in society. Hyperrealistic, Darling's technically strong work tells the story of all women as they confront their own empowerment. "[This work is part of a] series of eight large-scale portraits of female and female-identifying people which explores how women are diminished by not telling their stories, how this keeps them isolated and stops them exercising their individual and communal power," says the Sydney-based artist. Good Girl, Jayden was first exhibited at The House that Dan Built's Whispers and Roars Festival 2022 in Sydney accompanied by an original musical composition and soprano vocalist – giving voice to the silenced woman. Darling is currently developing a new body of work titled Good girl: The Consequence of Silence for exhibition at the end of 2023.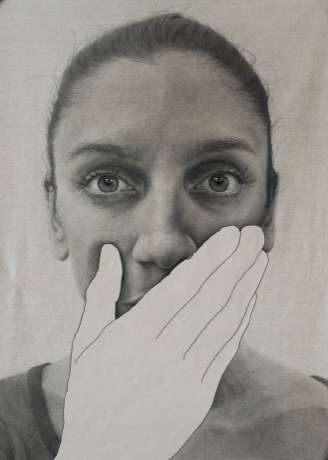 Ian Thomas
"This heartfelt diptych belies a wealth of research and personal tenderness, which is realised with great care," says judge Jazz Money of Ian Thomas' Magnificence. "The juxtaposition of restraint and abundance reveals the artist's deep connection to the subject matter with a finely balanced hand." A diptych featuring mother of pearl, wool and crystals, Magnificence is a tribute to the stories of resilience and struggle within the queer community. No stranger to art prizes (Thomas was awarded a Highly Commended in Art Edit's 2021 prize) the Sydney-based artist has honed his more than 20-year career and continues in his quest to highlight the continuing fight for recognition and equal rights of queer peoples. "The text is drawn from an early queer manifesto while the crystal curtain represents the joy of moving through the process of coming out, from darkness into light," says Thomas of the work. "The visual language of handsewn buttons is inspired by the Pearly Kings and Queens of London. I see them as queering norms by transforming the most basic uniform of heteronormativity – the black suit – into a glittering camp showpiece of sparkling couture."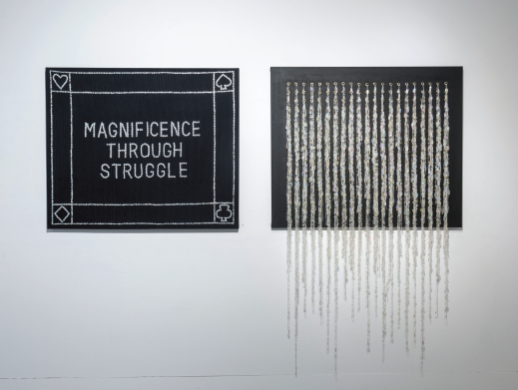 Fran Romano
"Fran Romano's work Loculus I evokes a dark night of the soul frame of mind," says judge Alexandra Donohoe Church. "The murk of the interior, a bottomless pool of inward reflection, skinned in a scarred, traumatised exterior. The presence of the small, pure, untarnished votive infers a new, irrepressible force of life within bringing lightness to the dark. There is a brutal honesty to this work for me, inviting my gaze in over and over." Using the ceramic medium to explore stories of decay, loss and longing, Romano draws on her Southern Italian heritage to build a sense of history within her clay's surface. Loculus I, part of a series of wall-mounted loculi (little spaces), explores the burial places found in catacombs or neolithic necropolis where objects are given as offerings in a ritualistic tradition. Romano's work itself becomes an offering for contemplation, reflection and space within the fast-paced reality of our contemporary life. In 2023, Romano is working on residency opportunities in Europe, and hopes to continue her research into burial practices of the Ancient Etruscans in Italy.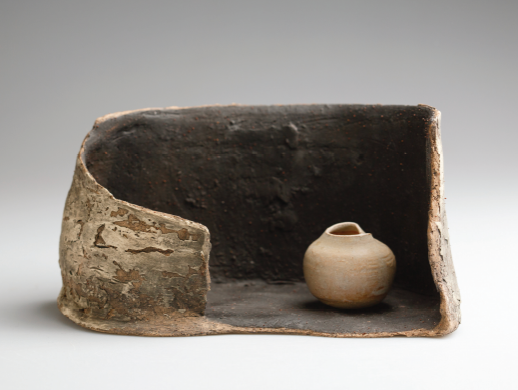 JUDGE'S SPECIAL COMMENDATIONS