NEUROSCIENCE RESEARCHER TURNED ARTIST JUDY MORRIS CHALLENGES THE NEED FOR A CAMERA WITH HER LIFELIKE PENCIL DRAWINGS.
How would you describe what you do to someone who hasn't seen your art?
I represent the world around me in drawings that emphasise the contours and textures of animal and plant forms, interpreting their intricate beauty at the microscopic and macroscopic scale with graphite and coloured pencil on a variety of surfaces.
How long have you been practicing as an artist?
I have been a full-time artist for almost 10 years, after a long career as a neuroscience researcher where I studied the structure and function of single nerve cells using advanced microscopy and electrical recording techniques. I am mostly a self-taught artist.
What is your studio like?
I have a light-filled studio at my home in the Adelaide Hills, overlooking my garden filled with native and introduced plants that provide daily inspiration for my drawings.
What do you aim to achieve through your art?
I am fascinated with overall forms and surfaces in nature, as well as underlying detailed structures. Through my drawings, I seek to present images that communicate the immersive experience of understanding and representing the compelling beauty of the natural world.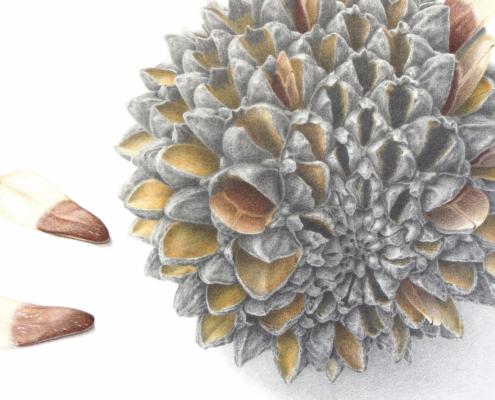 Neuroscience researcher turned artist Judy Morris challenges the need for a camera with her lifelike pencil drawings.
https://artedit.com.au/wp-content/uploads/2018/11/FEATURE_JMorris_-Weeping-sheoak-cone.jpg
900
1600
Kirsty Sier
/wp-content/uploads/2018/05/Art-Edit-Magazine.png
Kirsty Sier
2018-11-05 13:16:48
2018-11-05 13:16:48
Q+A: Judy Morris