Project Sheet: Dressed Up Rawness
IN THIS BONDI APARTMENT, DESIGN FIRM AMBER ROAD MIXES A NOSTALGIC FOLK-ART COLLECTION WITH A PENCHANT FOR SOPHISTICATION. REBECCA GROSS WRITES.
WHEN SYDNEY-BASED design practice Amber Road transformed this two-bedroom seaside apartment in Bondi Beach, their intention was to jump from lacklustre to luminous by way of an art collection that blended a love of play with some unexpected twists. Their client, recently divorced, wanted a fresh start. Demolishing much of the interior provided the blank canvas necessary to create a casual, sophisticated home of new beginnings.
The apartment – formerly a suite in the Swiss Grand Hotel – has panoramic views of the Pacific Ocean, but the client wanted to break away from the predictable coastal palette. Instead, he wanted a home that showcased his collection of tribal pieces, as well as works by up-and-coming contemporary artists, of which he is an avid supporter.
"A person's selection of artworks is very revealing of their character, so it is always one of our greatest inspirations when we are developing a concept," says Yasmine Ghoniem, co-director of Amber Road alongside landscape architect Katy Svalbe. The client's collection of tribal artefacts – reminders of his early life in Papua New Guinea – inspired the choice of Michelle Connolly's Mind at Play sculptures, which are lined up across the living room wall. The folk art-like pieces embody a primitive, raw spirit, made of salvaged materials such as electrical wire, ragged plastic, broken wood and chewing-gum wrapper. In the apartment, they are made to contrast with the radiant Marmorino plaster-rendered walls and ceiling, which reflect light deep into the space.
Michelle's sculptures are framed by the bulkhead and sofa, as well as a custom-designed totem unit in the corner. This latter provides display space for decorative objects and bottles. The rounded corners are a repeated design element throughout the apartment, softening the edges of the bulkhead, walls and joinery. "The curves became a recurring yet non-repetitive motif, celebrating sculpture and form," says Yasmine.
These curves are further complemented with a limestone planter by Steve Clark of Den-Holm and the fluid, abstract figures of Kirsty Budge's painting The Real Housewives is the Tennessee Williams and I stand by this statement 100%, which was selected for its forms and scale.
"Art feeds off of its surroundings, so placement needs to be carefully considered," explains Yasmine. "We allocate walls for artworks at the beginning of a project as the length and height inform our decisions."
The polished white walls frame the textured black hallway with a vintage wall sconce and Charlotte Perriand armchair, as if creating a three-dimensional artwork. Sumptuous black walls continue through the bedrooms, with woven-textured wallpaper on the ceiling inspired by the client's spear collection.
A timber fertility sculpture sits on a black plinth, and Janusz Wozny's black-and-white fine-art photograph Dream hangs above the bed. "It takes a long time sourcing the perfect piece, but when the right one comes along, you just know," says Yasmine. The design team visited galleries with the client to select new artworks, including an underwater nude that alludes to the coastal location in a more subtle manner than is typical of design in the area. The nude is a particularly personal piece from Wozny's Mask series – an introspective journey about the search for true identity. "Like all the artworks, it reminds us that there is a human element to the built form," says Yasmine.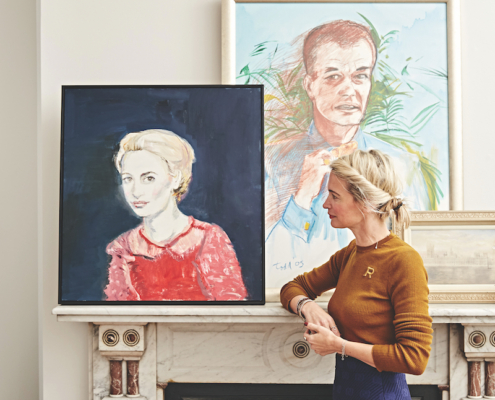 There's a story behind every artwork in the Balmain home of collector and creative Sophie Trippe-Smith. She talks to Rose of Sharon Leake over a cup of peppermint tea. Photography by Nick De Lorenzo.
https://artedit.com.au/wp-content/uploads/2020/11/062_.jpeg
1200
800
Rose Leake
https://artedit.com.au/wp-content/uploads/2021/05/AE28-web-logo-4.jpg
Rose Leake
2020-11-25 15:39:56
2021-07-20 12:50:51
Living with Art: In The Blood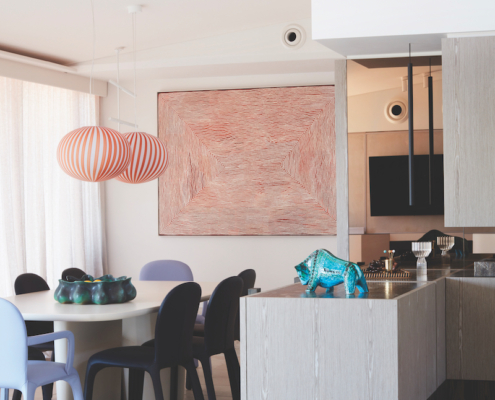 Rich with memories of adventure, the art in this penthouse home is as diverse and eclectic as the couple who lives there. Erin Irwin writes. Photography by Prue Ruscoe.
https://artedit.com.au/wp-content/uploads/2020/11/YSG-Studio_Crane-in-the-Sky_High27.jpg
1126
800
Rose Leake
https://artedit.com.au/wp-content/uploads/2021/05/AE28-web-logo-4.jpg
Rose Leake
2020-11-25 15:39:25
2021-07-20 12:38:34
Project Sheet: New Horizons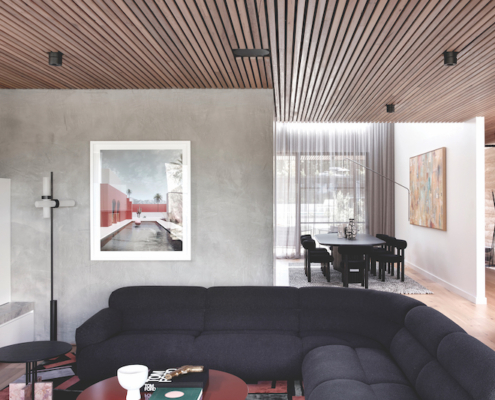 In Mornington Peninsula's exquisite hinterland stands a home with a gallery-worthy collection. Pilar Mitchell takes us inside. Photography by Sean Fennessey.
https://artedit.com.au/wp-content/uploads/2020/11/20200204_Red_Hill_017HIGH-RES.jpg
533
800
Rose Leake
https://artedit.com.au/wp-content/uploads/2021/05/AE28-web-logo-4.jpg
Rose Leake
2020-11-25 15:10:14
2021-07-20 12:40:50
Project Sheet: Home is Where the Art Is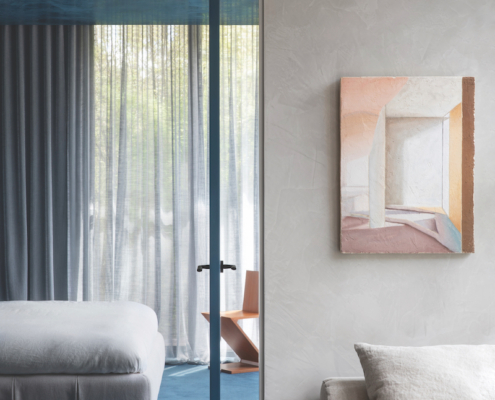 Interior designer Chelsea Hing gives the art in this family home surprising new bearings. Camilla Wagstaff writes. Photography by Rhiannon Taylor.
https://artedit.com.au/wp-content/uploads/2020/11/CHELSEAHING_PARKORCHARDS_RHIANNONTAYLOR_BEDROOM-13.jpg
1129
800
Rose Leake
https://artedit.com.au/wp-content/uploads/2021/05/AE28-web-logo-4.jpg
Rose Leake
2020-11-25 15:09:22
2021-07-20 12:41:47
Project Sheet: A Fruitful Endeavour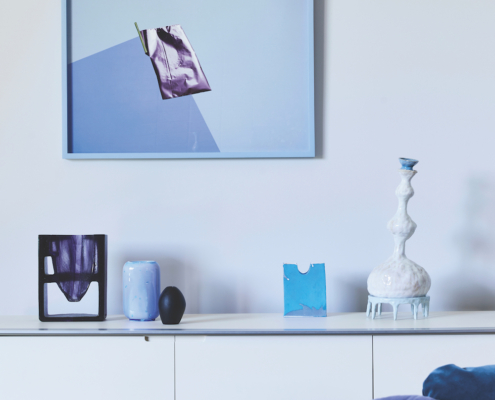 https://artedit.com.au/wp-content/uploads/2020/08/Bock_Ashmore034-1.jpg
1026
1000
Rose Leake
https://artedit.com.au/wp-content/uploads/2021/05/AE28-web-logo-4.jpg
Rose Leake
2020-08-25 13:44:54
2020-08-25 13:44:54
Project Sheet: A State of Blue
https://artedit.com.au/wp-content/uploads/2020/10/4lIVv3qITaygaN9CVkmQ_thumb_197b.jpg
852
1024
Liz
https://artedit.com.au/wp-content/uploads/2021/05/AE28-web-logo-4.jpg
Liz
2020-11-05 11:17:57
2020-11-06 11:23:12
Smiths Creek 2, oil painting by Liz Muir 
https://artedit.com.au/wp-content/uploads/2020/07/YTBCMockUpSq.jpg
2000
2000
Angela
https://artedit.com.au/wp-content/uploads/2021/05/AE28-web-logo-4.jpg
Angela
2020-06-03 12:25:21
2020-07-03 12:27:12
Yellow-tailed Black Cockatoo Feather Study
https://artedit.com.au/wp-content/uploads/2020/07/ScarletFrameSq.jpg
1591
1590
Angela
https://artedit.com.au/wp-content/uploads/2021/05/AE28-web-logo-4.jpg
Angela
2020-06-03 12:16:45
2020-07-03 12:27:36
Scarlet Honeyeater Study
https://artedit.com.au/wp-content/uploads/2020/11/20201111_170200-scaled.jpg
1963
2560
Jennifer
https://artedit.com.au/wp-content/uploads/2021/05/AE28-web-logo-4.jpg
Jennifer
2020-10-13 08:46:17
2020-11-13 08:47:32
Mitchies Jetty, Merimbula, acrylic painting by Jennifer Baird