Project Sheet: California Down Under
WITH A VINTAGE PALM SPRINGS FEEL IN MIND, THE TEAM FROM ALEXANDRA KIDD DESIGNS BREATHE NEW LIFE INTO A QUINTESSENTIALLY SYDNEY HOME. PILAR MITCHELL WRITES. PHOTOGRAPHY BY PABLO VEIGA.
Kate and Anthony Jackson's family home at Raglan Street, Mosman, was a knock-down and rebuild project. But even with fresh starts, blank canvases are never blank. The couple envisaged a mid-century Palm Springs house with an undeniable contemporary Sydney stamp. It needed to balance the opposing forces at work in a family of five, marrying warmth and opportunity for togetherness with space for moments of privacy.
"I prefer working with constraints because your creativity is always challenged," Jessica Sorlin, lead designer at Alexander Kidd Designs, tells Art Edit. "When it's completed and everything looks like it was meant to be, it's a wonderful achievement."
Big-picture design priorities included elements such as quiet, private escapes and the fluidity of indoor and outdoor living that celebrates the property's ocean views.
There was also a directive from Kate to incorporate inspiration from shaded bamboo forests. "We were really challenged with how to include bamboo in a sophisticated design," says Jessica.
They settled on adding black steel screens and balustrades. The close vertical bars are connected with intermittent horizontal pieces that mimic the poker-straight profiles of leafy bamboo plants. Along with a black-and-white colour palette and elements of brushed gold and grey vitrified floor tiles, the bamboo features unite a multi-room home split over three levels.
The black steel lines also insinuate themselves onto pale walls, creating a beautiful shadow world that shifts as the sun travels across the sky, casting light into large windows that are deliberately uninterrupted by frames.
Artworks were chosen to add moments of poetry to the modern aesthetic. Alicia Taylor's photograph Above Below, of a woman swimming in a stormy ocean, brings depth to the living room, while the faceless twins in Emilie Syme Lamont's painting Doppelgänger adds sophistication to the outdoor terrace.
Movement through the house uncovers lovely surprises. Hidden spaces such as the study and butler's pantry reveal themselves behind clever joinery, and the cosy breakfast nook with its deep blue banquette is tucked into a sunny corner of the kitchen. Marisa Purcell's abstract work Array evokes a tension between the stormy chaos of colour and shadow on a soft linen backdrop.
"The greatest outcome of this new home is privacy," Jessica says. "The layout offers a room for everyone to relax and unwind in peace. And the main living areas are perfect for our clients who love entertaining."
Raglan Street pays homage to the hallmarks of a mid-century Palm Springs home without being a facsimile copy. "The house features generous open plans, floor-to-ceiling openings and there's gentle indoor to outdoor flow. But it's also contemporary. Most of the architectural features are in black, white and gold. They're strong, but their repetition and clean lines have anchored them in a décor where the artistic elements are colourful, organic and textured," she says.
Sydney has left its unmistakeable mark on Raglan Street from the roots of the house. Visible only from the back garden is the original foundation of soft, champagne-coloured sandstone blocks, anchoring the home inextricably its native city.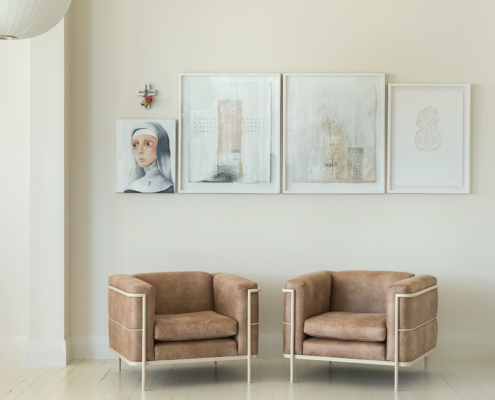 This high-end bachelor pad awash with light and personality is the perfect stage for pairing art with design. Erin Irwin writes. 
https://artedit.com.au/wp-content/uploads/2021/08/Screen-Shot-2021-08-03-at-4.15.53-pm-copy.png
786
800
Maddy Matheson
https://artedit.com.au/wp-content/uploads/2021/11/AE30-web-logo-1.jpg
Maddy Matheson
2021-08-03 16:30:24
2021-09-06 13:35:17
Project Sheet: Labour of Love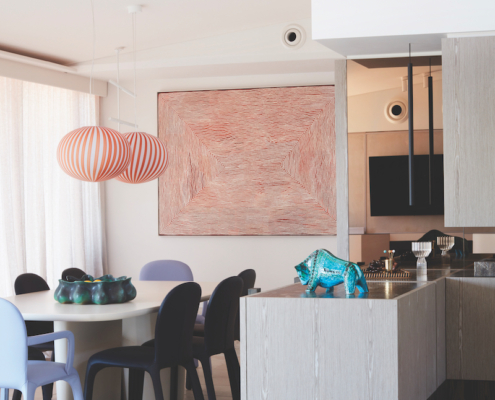 Rich with memories of adventure, the art in this penthouse home is as diverse and eclectic as the couple who lives there. Erin Irwin writes. Photography by Prue Ruscoe.
https://artedit.com.au/wp-content/uploads/2020/11/YSG-Studio_Crane-in-the-Sky_High27.jpg
1126
800
Rose Leake
https://artedit.com.au/wp-content/uploads/2021/11/AE30-web-logo-1.jpg
Rose Leake
2020-11-25 15:39:25
2021-07-20 12:38:34
Project Sheet: New Horizons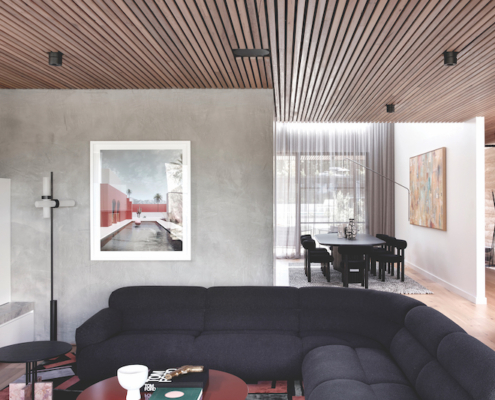 In Mornington Peninsula's exquisite hinterland stands a home with a gallery-worthy collection. Pilar Mitchell takes us inside. Photography by Sean Fennessey.
https://artedit.com.au/wp-content/uploads/2020/11/20200204_Red_Hill_017HIGH-RES.jpg
533
800
Rose Leake
https://artedit.com.au/wp-content/uploads/2021/11/AE30-web-logo-1.jpg
Rose Leake
2020-11-25 15:10:14
2021-07-20 12:40:50
Project Sheet: Home is Where the Art Is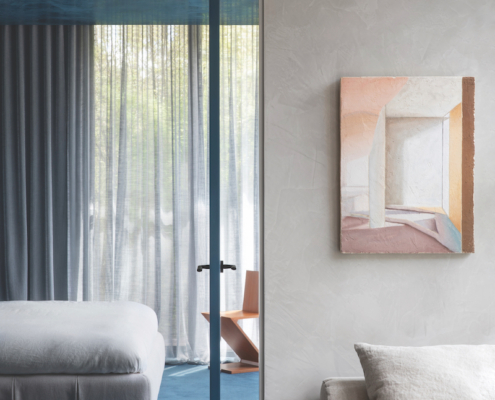 Interior designer Chelsea Hing gives the art in this family home surprising new bearings. Camilla Wagstaff writes. Photography by Rhiannon Taylor.
https://artedit.com.au/wp-content/uploads/2020/11/CHELSEAHING_PARKORCHARDS_RHIANNONTAYLOR_BEDROOM-13.jpg
1129
800
Rose Leake
https://artedit.com.au/wp-content/uploads/2021/11/AE30-web-logo-1.jpg
Rose Leake
2020-11-25 15:09:22
2021-07-20 12:41:47
Project Sheet: A Fruitful Endeavour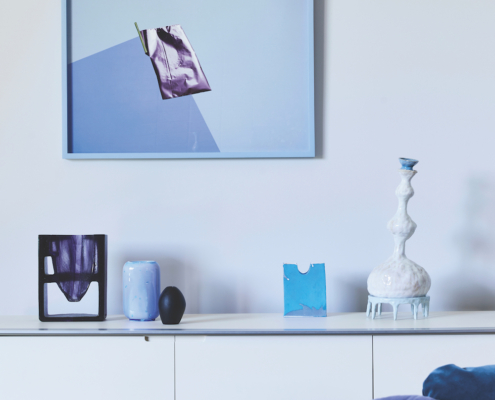 https://artedit.com.au/wp-content/uploads/2020/08/Bock_Ashmore034-1.jpg
1026
1000
Rose Leake
https://artedit.com.au/wp-content/uploads/2021/11/AE30-web-logo-1.jpg
Rose Leake
2020-08-25 13:44:54
2020-08-25 13:44:54
Project Sheet: A State of Blue
https://artedit.com.au/wp-content/uploads/2020/08/Screenshot_20200821-085846_Shopify-1-scaled.jpg
2560
1655
Jennifer
https://artedit.com.au/wp-content/uploads/2021/11/AE30-web-logo-1.jpg
Jennifer
2020-09-25 13:43:35
2021-07-30 21:19:02
Double Bay from the Rotunda, Mixed Media by Jennifer Baird
https://artedit.com.au/wp-content/uploads/2020/10/4lIVv3qITaygaN9CVkmQ_thumb_197b.jpg
852
1024
Liz
https://artedit.com.au/wp-content/uploads/2021/11/AE30-web-logo-1.jpg
Liz
2020-11-05 11:17:57
2020-11-06 11:23:12
Smiths Creek 2, oil painting by Liz Muir