Living with Art: Art in the DNA
Melbourne architect, poet and artist Billy Kavellaris talks to Rose of Sharon Leake about collapsing the boundaries between art and architecture in the house he built for his family.
For Billy Kavellaris art and architecture cannot be separated. "Architecture is more about people than everyone really realises, it's ingrained in our DNA," the Melbourne-based architect, poet and artist tells me. "If we just thought about architecture as utility we would live in plain boxes, but clearly there's something else at play here. It's an important part of our development as people, it's how we represent our cultural values." 
Billy has spent the last 25 years in the architecture industry formulating these ideas of how art and architecture intersect. First studying a drafting diploma, then completing a degree course in architecture, while simultaneously starting his own firm after uni hours, Billy is now managing director and founder of Kavellaris Urban Design (KUD) in Melbourne. 
When I first set eyes on Billy Kavellaris's JARtB house I knew I was witnessing something extraordinary, but just how special this house is I was yet to learn. Situated in the suburb of Toorak in Melbourne, the house is Billy's own home, an artwork in itself and a lifetime in the making. 
"As the owner, builder, artist and architect of JARtB house, the primary objective was to live in and around a piece of art," he tells me. "It's interesting when an architect designs their home, they have to represent themselves, warts and all and say 'this is who I am', 'this is what I represent', it's always daunting." 
From conception to construction, the house was designed to reflect ideas from the Baroque era, yet is also a representation of Billy, his values and his family. The house was built by himself and his father-in-law; his own poetry is embossed throughout the house in the concrete floors and behind doors; and his sculptures are scattered throughout. Even the name, JARtB, represents Billy, the letters each standing for a member of his family, bar the 't' which sneaks in to spell out art. "In itself the name is a little piece of art, and acts as a gateway into what the house is really about," he says. 
There really is no separation between art gallery and house. During the design phase the art generated and dictated the space around it, allowing the six metre giraffes in the living room to stand tall and the red column which pierces through two levels to start a conversation between volume, space and boundaries. "Art and architecture were never overpowering each other in tension," says Billy. "They work together, they are part of the same ecosystem." 
With more than 30 pieces of art in the home, the collection is made up of a combination of Australian and international artists, including a number of works by Billy himself along with pieces by artists Sabine Von Graz, Joe Blundell, David Umemoto, Ralvin Dizon, Isabelle Menin, PichiAvo, JR and Gail Slatter Folwell, as well as his own daughter Jorja Kavellaris.
Yet there is one work that is arguably the main event: the 13-panelled glass façade. As a second generation Greek, Billy tells me that the façade was somewhat serendipitous for the project. "I came across the artists, Spanish duo PichiAvo, about six years ago and I just fell in love with their work. These Spanish street artists take Greek mythological characters and represent them in the most unlikely fashion in graffiti on shipping containers and in subway stations. For me it was the most neo-baroque expression of the narration of antiquity." Billy contacted the artists, attained high resolution photographs of 13 of their mural works located across the globe and stitched them all together to create one jaw-droppingly large glass mural which now wraps around the JARtB house. The beautiful glass shard projects out from the home's concrete body, creating a dialogue between materials that at once oppose each other and are complimentary. Reminiscent of light cascading through glass in a baroque cathedral, the façade becomes more than an artwork. It has a utilitarian function, allowing light to stream into the house while simultaneously providing privacy for Billy and his family. Yet privacy has never been Billy's objective with this project.
"Some of the most valuable pieces of art are in private collections," Billy tells me. "Art is meant to represent the world and our culture, but no one can view it. This is really an issue for me. We made a conscious decision to open our collection up and share it with the public. We lose that sense of privacy but I'm more interested in sharing what we have so it doesn't become privatised and only viewable for a privileged few." With an amphitheatre located in the back garden, Billy plans to host live performances of music and theatre for public audiences.
The ultimate confluence of art and architecture, the JARtB house elevates architecture to a new breath-taking level. We are no longer living with art; we are living in it.
Featured image: Painted steel giraffe sculptures Simbla (yellow) and Koumbou (orange) by Billy Kavellaris stand beside the artist himself and his cat Hercules. On the right hangs Joe Blundell's painting Untitled. Photo: Elke Meitzel. Courtesy: Billy Kavellaris.
MORE FEATURES FROM ISSUE #28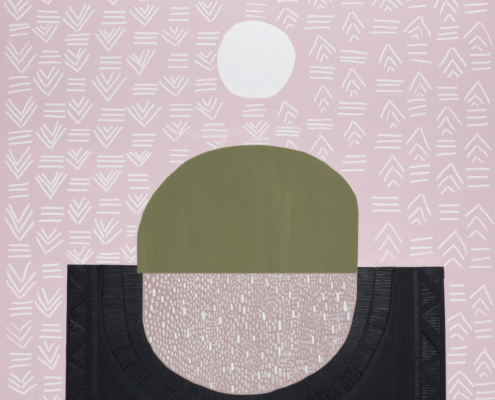 https://artedit.com.au/wp-content/uploads/2021/08/Screen-Shot-2021-08-27-at-4.00.13-pm.png
1060
1052
Maddy Matheson
https://artedit.com.au/wp-content/uploads/2022/06/AE32-web-logo-with-transparency.png
Maddy Matheson
2021-08-27 16:04:31
2021-08-27 16:04:31
Gallery: Ani Ipradjian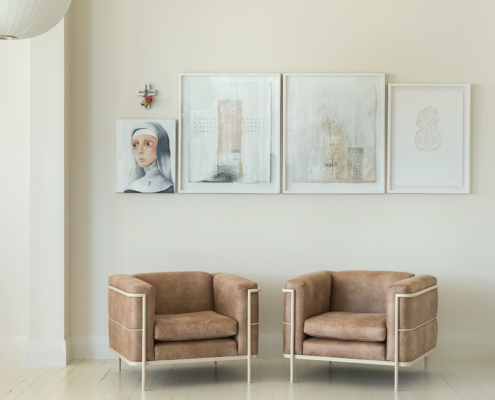 https://artedit.com.au/wp-content/uploads/2021/08/Screen-Shot-2021-08-03-at-4.15.53-pm-copy.png
786
800
Maddy Matheson
https://artedit.com.au/wp-content/uploads/2022/06/AE32-web-logo-with-transparency.png
Maddy Matheson
2021-08-03 16:30:24
2021-09-06 13:35:17
Project Sheet: Labour of Love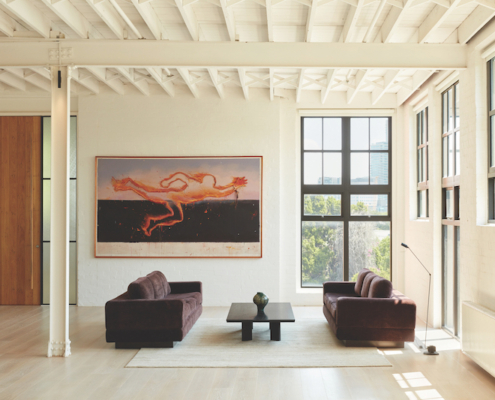 https://artedit.com.au/wp-content/uploads/2021/07/ODP_MPENT0799_-Edit-copy.jpg
533
800
Maddy Matheson
https://artedit.com.au/wp-content/uploads/2022/06/AE32-web-logo-with-transparency.png
Maddy Matheson
2021-07-01 15:26:13
2021-07-01 15:44:34
Project Sheet: Castle in the Sky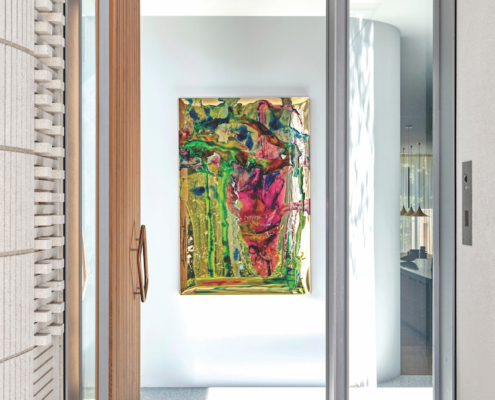 https://artedit.com.au/wp-content/uploads/2021/06/TP-Latimer-Rd-00529-V2-HR-copy-1.jpg
739
739
Maddy Matheson
https://artedit.com.au/wp-content/uploads/2022/06/AE32-web-logo-with-transparency.png
Maddy Matheson
2021-06-26 09:05:14
2021-06-26 09:36:10
Project Sheet: Latimer House