Gallery Panel: Tegan Georgette
ART EDIT'S CURATORIAL EXPERTS TAKE A CLOSER LOOK AT THESE ARTISTS' WORK.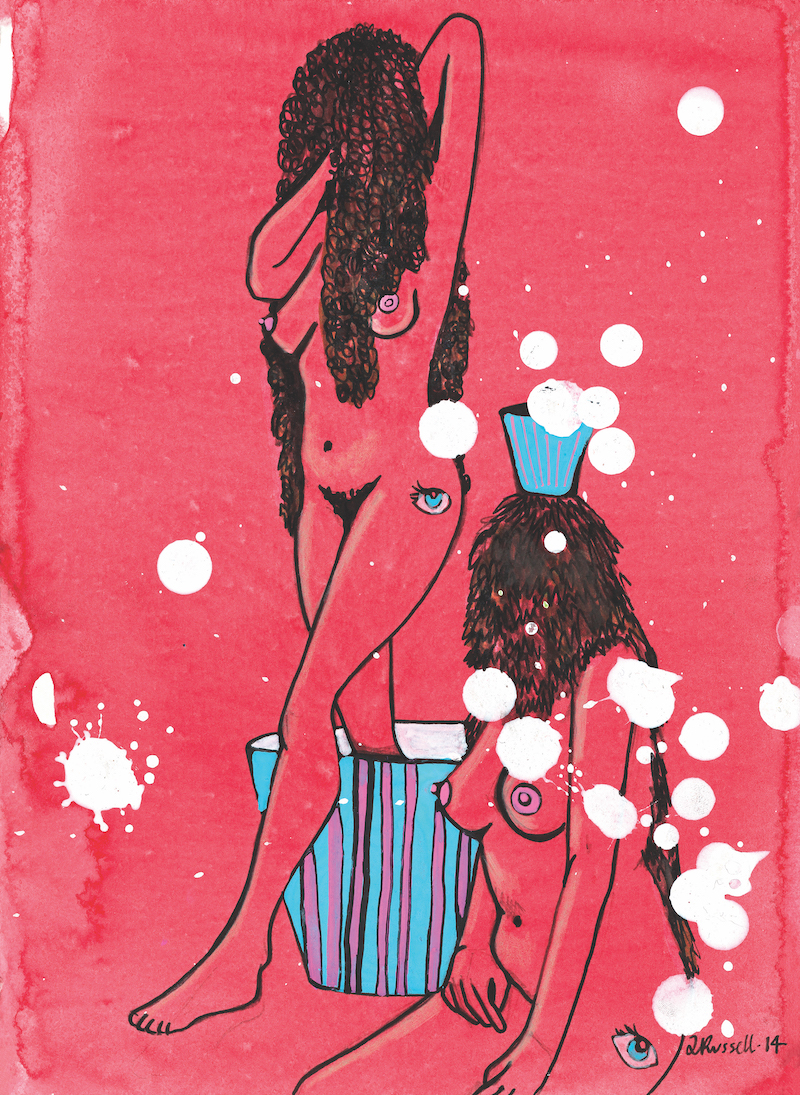 Tegan Georgette, My hip has an eye on you. Artist quality inks, acrylics, pens and pencils on paper, 17 x 23.5cm. Courtesy: the artist
ASHLEIGH JONES
Independent curator and gallery manager, Michael Reid Sydney
Tegan's work speaks of an artist who is inspired. The strong use of colour, adventurous use of different medias and drips of paint boldly placed by happenstance, all speak of a creative mind in its element. This work speaks of female empowerment. Tegan's women aren't looking at us, they don't engage with the viewer, instead their thick curly hair covers their gaze, speaking to a power that lives within.
Art Edit Magazine
KITTY CLARK
Saint Cloche Gallery, Sydney
Tegan's integrated use of medium is as spirited as her exploration of female form. The candied pink wash in combination with the salty and tenacious lines of these two bodies evoke not only a sense of lusciousness, but reveal dynamic tensions between the tenderness and the ferocity of female identity. The eyes placed on the figures reference the mystical third eye, emphasising Tegan's fascination with inner worlds and workings of the mind as much as bodily experiences. Could these eyes also be an assertion of power from the female body? Their faces are hidden with an abundance of hair that drips and falls over their curves. They see with covered faces, alluding to a more collective message of female empowerment. These figures stare self-assuredly, aware of the gaze of the viewer, empowered in their vulnerability.
Art Edit Magazine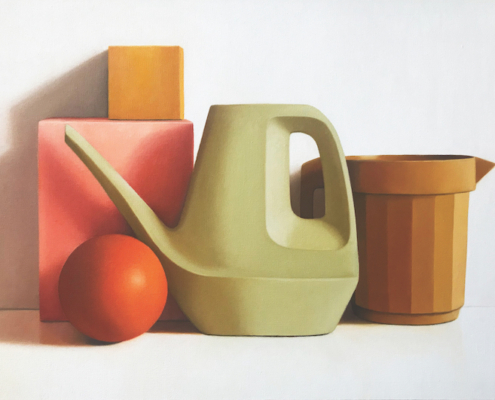 https://artedit.com.au/wp-content/uploads/2020/11/JaneReynolds_Arrangement19.jpg
531
800
Rose Leake
https://artedit.com.au/wp-content/uploads/2022/03/AE31-web-logo-with-transparency.png
Rose Leake
2020-11-25 15:41:39
2020-11-25 15:41:39
Gallery Panel: Jane Reynolds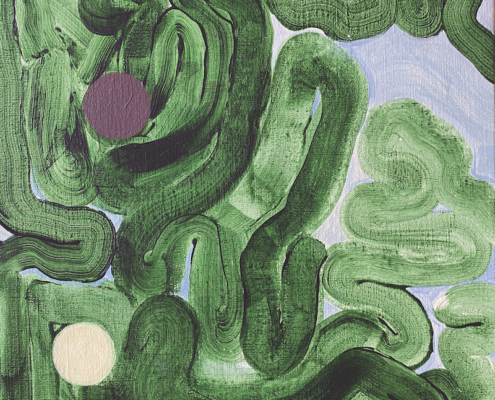 https://artedit.com.au/wp-content/uploads/2020/11/LauraHorrocksSafe_Spaces.Acrylic_on_linen30x30cm550.Courtesy-the-artist..jpg
800
800
Rose Leake
https://artedit.com.au/wp-content/uploads/2022/03/AE31-web-logo-with-transparency.png
Rose Leake
2020-11-25 15:41:34
2020-11-25 15:41:34
Gallery Panel: Laura Horrocks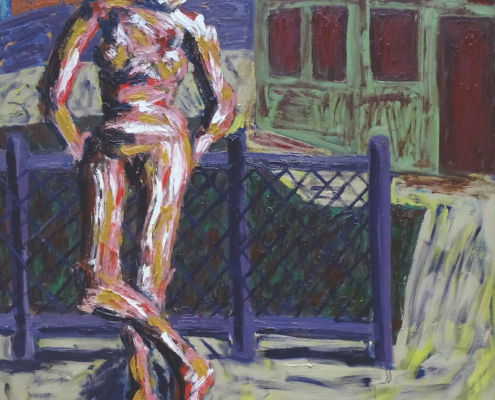 https://artedit.com.au/wp-content/uploads/2020/11/Tom-Phillips-Eleanor-Rigby-Oil-on-Canvas-167cm-x-136cm-2020�3500courtesy-of-the-Artist.jpg
971
800
Rose Leake
https://artedit.com.au/wp-content/uploads/2022/03/AE31-web-logo-with-transparency.png
Rose Leake
2020-11-25 15:41:29
2020-11-25 15:41:29
Gallery Panel: Tom Phillips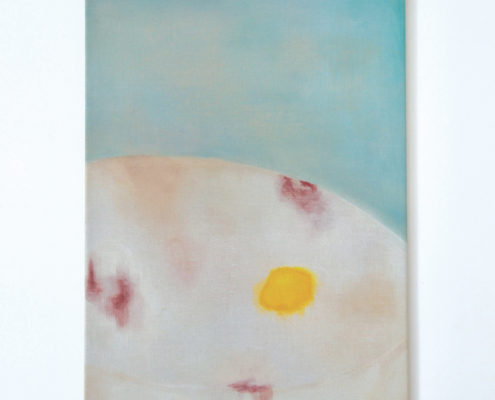 https://artedit.com.au/wp-content/uploads/2020/11/Indivi-When-I-Stood-Still-.jpeg
972
800
Rose Leake
https://artedit.com.au/wp-content/uploads/2022/03/AE31-web-logo-with-transparency.png
Rose Leake
2020-11-25 15:41:23
2020-11-25 15:41:23
Gallery Panel: Indivi Sutton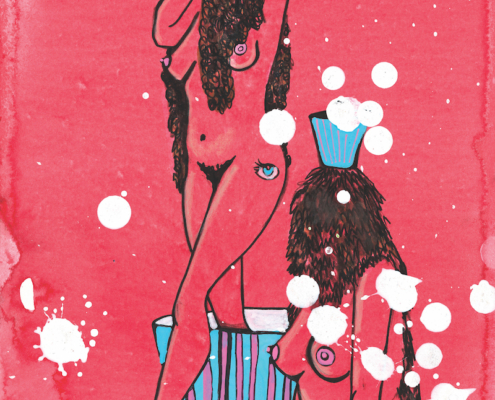 https://artedit.com.au/wp-content/uploads/2020/11/Tegan-Georgette-My-hip-has-an-eye-on-you-artist-quality-inks-acrylics-pens-and-pencils-on-paper-17X23.5cm-�650-Archival-Framed-with-UV-reflection-proof-glass.jpg
1095
800
Rose Leake
https://artedit.com.au/wp-content/uploads/2022/03/AE31-web-logo-with-transparency.png
Rose Leake
2020-11-25 15:41:07
2020-11-25 15:41:07
Gallery Panel: Tegan Georgette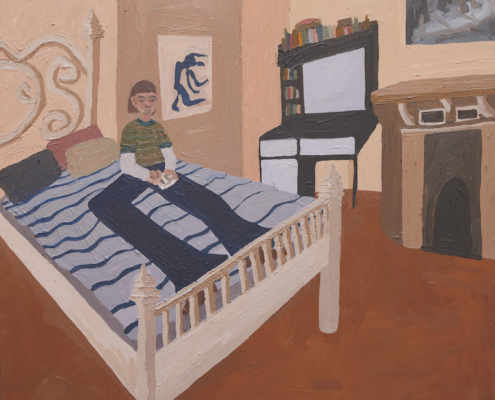 https://artedit.com.au/wp-content/uploads/2020/11/Maya-Barnstone.jpeg
727
800
Rose Leake
https://artedit.com.au/wp-content/uploads/2022/03/AE31-web-logo-with-transparency.png
Rose Leake
2020-11-25 15:41:00
2020-11-25 15:41:00
Gallery Panel: Maya Barnstone