Lighting expert Lauren Li talks us through the art and practicalities of lighting art works in domestic spaces.
 Forget about the architecture, interiors, furniture and art. If there isn't great lighting in the space, then why bother? After all, without light, we can't see any of it! Lighting is such a critical consideration, it's absolutely essential to not only show-off the best features of the space but also for our own wellbeing. The way a space is illuminated greatly affects the way we feel. 
Consider lunch in a brightly lit food hall compared with the dim candlelight of a french bistro. The way we behave in a space has a lot to do with how it is lit, and it's no accident that your local convenience store is lit up like a stadium late on a Friday night. Take the hint: you're not welcome to hang around for too long. So how do you want to feel in your home and how do you want your guests to feel?
 TIP 1 / Natural Light 
Although we want to flood our rooms with glorious natural light, we need to think twice when it comes to protecting our artwork. Direct sunlight, and even indirect sunlight can affect different types of artwork in various ways. The key is being able to adjust the amount of light that is coming into the room. Consider the placement of the piece and if it can handle direct light. The key is to select the window treatment that can offer some relief from the amount of sunlight hitting the artwork. Sunscreen blinds and sheer curtains are a good option to filter the light.
TIP 2 / Floor & Table Lamps 
Don't just leave the downlights to do all of the lighting in a room. Adding some variety in layering the lighting is essential. To highlight an artwork such as sculpture or ceramics on a plinth, consider a well-positioned floor lamp. Not only can it illuminate the piece, it can provide loads of atmosphere. 
Sometimes the light itself is an artwork. The lines can be blurred when it comes to a sculptural piece that includes a light source, such as Cosset Ceramic's MONTY lamp which holds its own as a sculpture and a lamp. A series of hand-blown glass balls that cascade down the staircase, such as Articolo's hanging Trilogy light, can be a thing of awe and beauty that is enjoyed on a daily basis and becomes much more than just a functional object. 
TIP 3 / Ceiling Lighting 
The key to creating a captivating space in the evening is to plan the ceiling lighting according to how the space will be used. By default, downlights are arranged in a grid pattern on the ceiling without much thought of what is going on below. This result means lighting the floor and leaving the walls quite dark, which makes the whole space feel dark. Instead, consider what you want to light, starting with artwork and place adjustable lights that can move around as different pieces come and go in your collection. Adjustable can lights are cylindrical light fittings that can be angled to allow for the lighting to spotlight an artwork and really make it sing. Use a globe with a narrow beam so that you can really highlight the work. 
TIP 4 / Track Lighting 
My top tip on lighting artwork is to use track lighting. A track is mounted to the ceiling which allows light fixtures to be moved anywhere along the track. This makes track lighting the perfect option if you like to really change things up and move around artwork in your home in a big way. It's great for gallery walls as you can configure lights to suit. Track lights are becoming much more minimal in appearance than they were in the past and the lighting opportunities they can create are endless.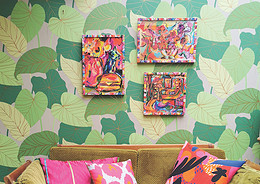 Maximalism is making a serious come back. But how do you ensure patterned walls don't overpower your art? New Zealand-based interior designer Evie Kemp talks us through the process.
https://artedit.com.au/wp-content/uploads/2022/06/IMG_20191015_081832.jpg
815
600
AdrianaBorsey
https://artedit.com.au/wp-content/uploads/2022/06/AE32-web-logo-with-transparency.png
AdrianaBorsey
2022-06-08 11:25:29
2022-06-08 11:25:29
Expert Eye: Art and Wallpaper