Design Council: Joy Brentwood
ART EDIT'S PANEL OF DESIGN EXPERTS ARE BURSTING WITH IDEAS ABOUT HOW TO HANG AND STYLE THIS ARTWORK IN YOUR HOME.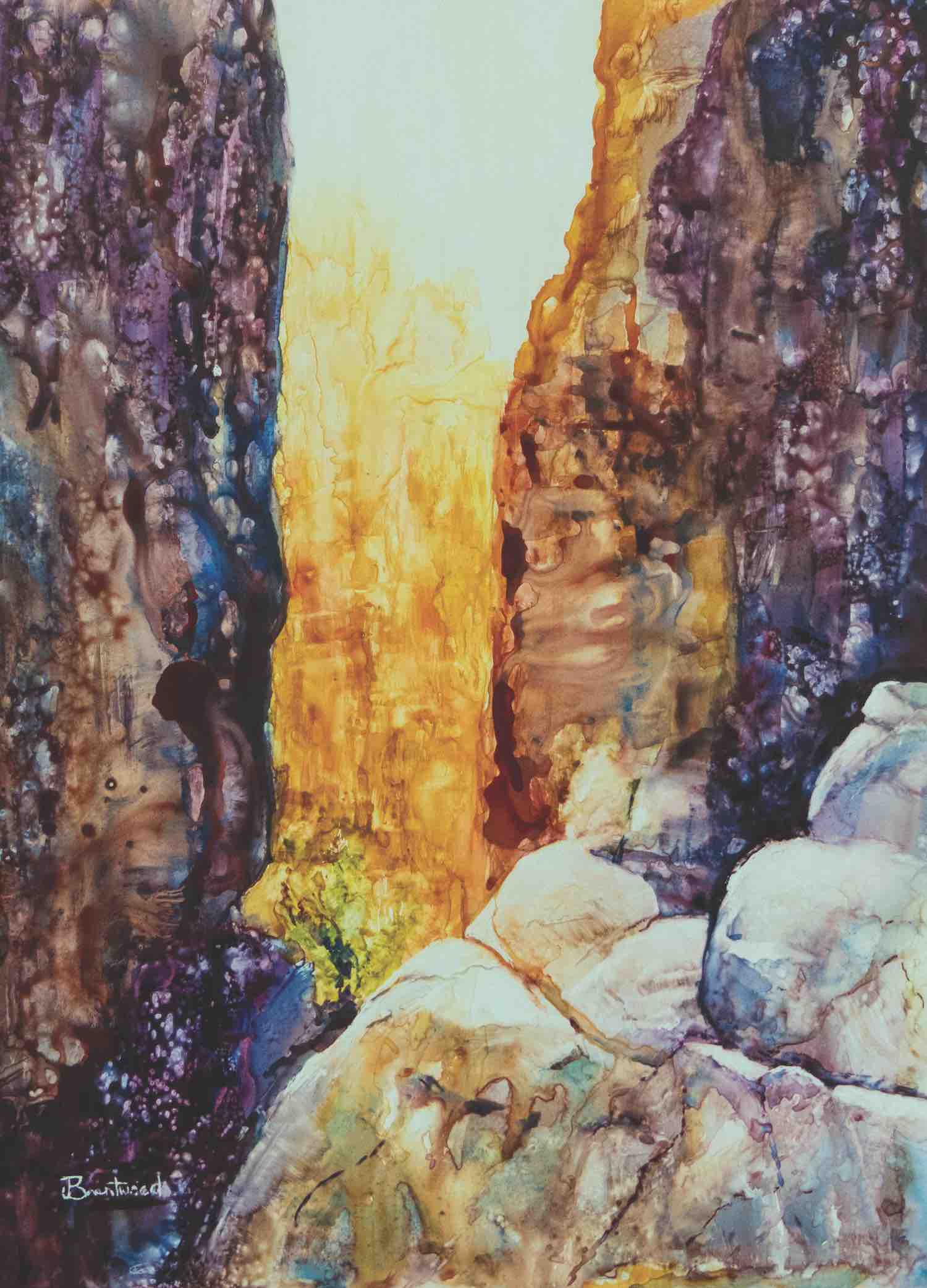 Spirits of the Chasm. Watercolour on yupo, 49 x 35cm.
BRETT MICKAN
Brett Mickan Interior Design, Sydney
Joy Brentwood's mastery of the watercolour medium gives the organic forms in this work a beautiful illusion of light and texture. I would frame this work in a simple dark wood frame, then play upon the golden tones by incorporating them in the room's interior. Start with a large wool rug in a burnt caramel tone with a pair of contemporary linen sofas and a large mahogany coffee table. Add lamps and accessories in a deep navy to act as accent and contrast with crisp white walls.
Art Edit Magazine
SUZANNE GORMAN
Studio Gorman Interior Design, Sydney
Joy captures the raw texture of nature's rocky formations. The use of watercolour and a strong palette create depth within the artwork, emphasising the cool shadows created by the bright sun beyond. The verticality of this piece and the beckoning light suggest placing the artwork on a generously proportioned open stair with simple, modernist cantilevered travertine step treads, a seemingly floating patinaed chunky timber handrail topping an almost invisible glass balustrade.
Art Edit Magazine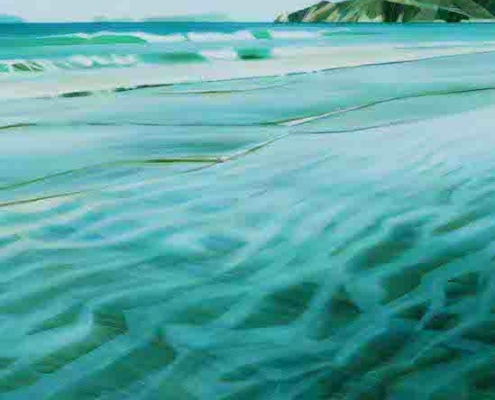 https://artedit.com.au/wp-content/uploads/2021/09/Ripple-Effect-copy.jpg
549
549
Maddy Matheson
https://artedit.com.au/wp-content/uploads/2021/09/AE29-web-logo-copy.jpg
Maddy Matheson
2021-09-06 16:31:00
2021-09-06 16:33:09
Design Council: Michelle McIver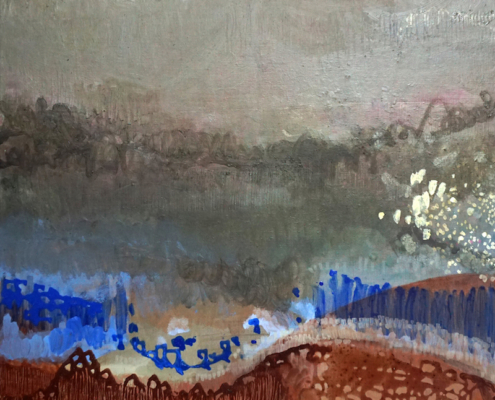 https://artedit.com.au/wp-content/uploads/2021/09/Scape_JK_.jpg
1075
800
Maddy Matheson
https://artedit.com.au/wp-content/uploads/2021/09/AE29-web-logo-copy.jpg
Maddy Matheson
2021-09-06 15:54:40
2021-09-06 15:55:28
Design Council: Julia Stoneham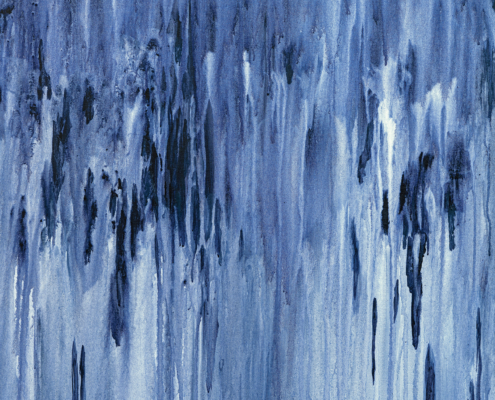 https://artedit.com.au/wp-content/uploads/2021/09/Just-Be-I-Dipytych-Larissa-Nguyen.jpg
2428
2428
Maddy Matheson
https://artedit.com.au/wp-content/uploads/2021/09/AE29-web-logo-copy.jpg
Maddy Matheson
2021-09-06 15:43:08
2021-09-06 15:56:07
Design Council: Larissa Nguyen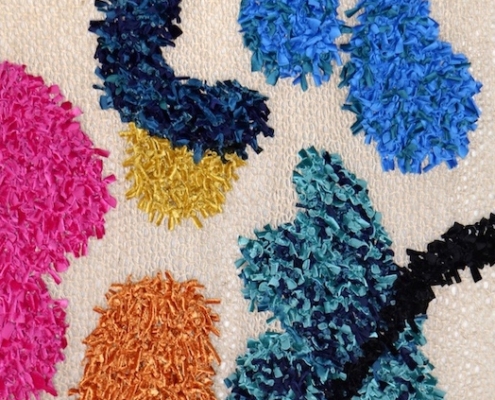 https://artedit.com.au/wp-content/uploads/2021/09/image0-copy-1.jpeg
524
524
Maddy Matheson
https://artedit.com.au/wp-content/uploads/2021/09/AE29-web-logo-copy.jpg
Maddy Matheson
2021-09-06 15:05:29
2021-09-06 16:21:59
Design Council: Mandy Chapman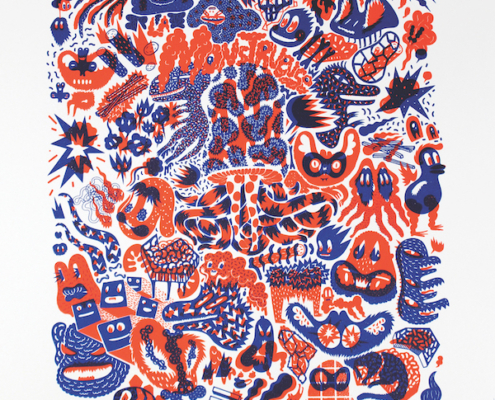 https://artedit.com.au/wp-content/uploads/2020/03/Kartini_Thomas-La_Monstrueuse.jpg
1056
800
Rose Leake
https://artedit.com.au/wp-content/uploads/2021/09/AE29-web-logo-copy.jpg
Rose Leake
2020-03-19 16:12:58
2020-03-19 16:12:58
Design Council: Kartini Thomas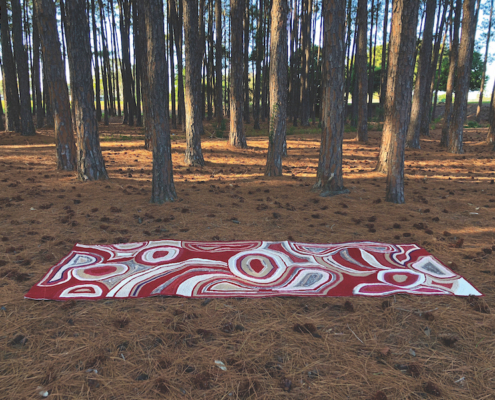 https://artedit.com.au/wp-content/uploads/2020/03/MSPRATT-Comfort.-Finger-Knitted-yarn-on-water-resisent-backing.-300x129cm-AU�4300.jpg
600
800
Rose Leake
https://artedit.com.au/wp-content/uploads/2021/09/AE29-web-logo-copy.jpg
Rose Leake
2020-03-19 16:05:27
2020-03-19 16:05:27
Design Council: Melissa Spratt
https://artedit.com.au/wp-content/uploads/2020/06/20200612_173830-scaled.jpg
2560
1948
Jennifer
https://artedit.com.au/wp-content/uploads/2021/09/AE29-web-logo-copy.jpg
Jennifer
2020-06-16 14:02:46
2021-07-30 14:42:14
Collingwood Beach, Jervis Bay, Screen print by Jennifer Baird
https://artedit.com.au/wp-content/uploads/2020/11/20201111_170200-scaled.jpg
1963
2560
Jennifer
https://artedit.com.au/wp-content/uploads/2021/09/AE29-web-logo-copy.jpg
Jennifer
2020-10-13 08:46:17
2020-11-13 08:47:32
Mitchies Jetty, Merimbula, acrylic painting by Jennifer Baird
https://artedit.com.au/wp-content/uploads/2020/10/CFAltJHRRapi2PiwCdtrw_thumb_197c.jpg
1024
980
Liz
https://artedit.com.au/wp-content/uploads/2021/09/AE29-web-logo-copy.jpg
Liz
2020-07-06 11:18:07
2020-11-06 11:20:53
Smiths Creek, oil painting by Liz Muir 
https://artedit.com.au/wp-content/uploads/2020/10/4lIVv3qITaygaN9CVkmQ_thumb_197b.jpg
852
1024
Liz
https://artedit.com.au/wp-content/uploads/2021/09/AE29-web-logo-copy.jpg
Liz
2020-11-05 11:17:57
2020-11-06 11:23:12
Smiths Creek 2, oil painting by Liz Muir