Artist Profile: Naomi Hobson
FOR ARTIST NAOMI HOBSON THE AUSTRALIAN LANDSCAPE IS MORE THAN THE SUM OF ITS PARTS. LOUISE MARTIN-CHEW WRITES. PHOTOGRAPHY BY SIMON ANDERSON PHOTOGRAPHY.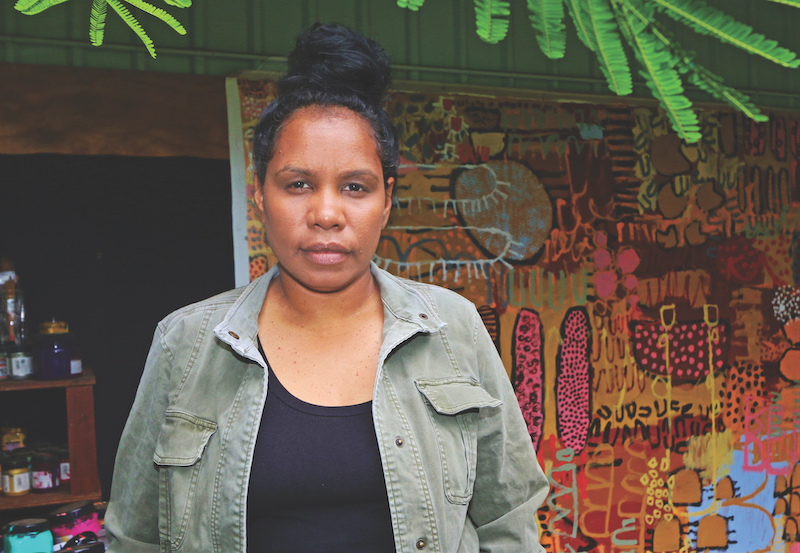 Artist Naomi Hobson.
ANTS ARE AS MUCH a part of the landscape as trees or rolling hills, for artist Naomi Hobson. Her bold landscape paintings focus in on the intimate and often unnoticed details of her Far North Queensland environment. In her first exhibition for Vivien Anderson Gallery in May, vibrantly coloured paintings like Wild Lagoon (2018) portray an environment teeming with life and energy. Pastel colours, dark outlines and a multitude of shapes overlay each other and simmer with a tension that holds all of its elements.
Contrastingly, the addition of geometrically patterned ceramic poles in the exhibition are a stripped back recreation of personal stories from her east coast Cape York home. Hobson lives in Coen at the top of Cape York Peninsula, on Country where her family and ancestors have always lived. Her house and studio are housed in a tin shed that was once the village church. "I feel very fortunate to spend my life on my Country, watching every season as we always have. The way everything happens now is so unpredictable," says the artist. "I'm still patiently looking for a pattern, and some things never change. Every year the eucalypt sheds its bark and underneath I see the detail of a different pattern. The Coen River is in my backyard, where I see the ants come out with their colours and patterns on their backs, the snakes, our birds and frogs, the bats, the sea eagle. I am a little obsessed with looking for the little things, the tiny things that nature hides."
Naomi has exhibited consistently since 2008. Solo exhibitions of her work have been seen across Australia since 2013. She won the 39th Alice Springs Art Prize in 2016 and, in 2018, had her first international solo exhibition at Singapore's ReDot Fine Art Gallery. She works across different media – in clay as well as photography and paint. Each media, for Naomi, fulfils a different purpose. "My paintings are my main medium. I started to hand build ceramics as a break from painting and to work my hands. I knew clay was important to our culture. When my elders came in and began to tell me stories, the clay poles emerged and became a way of holding onto a piece of our ancient culture in a new way – so that it is never forgotten."
Her photographs relate important contemporary narratives also from the community, a way to show the world at large "who we really are" as people from Cape York. In 2019 her photographic series A warrior without a weapon was acquired from the Cairns Indigenous Art Fair by the Queensland Art Gallery/Gallery of Modern Art, with other works from this series also exhibited in the National Gallery of Victoria and Bendigo Art Gallery. A warrior without a weapon portrays men from Coen, photographed individually with brightly coloured flowers embedded in their facial hair. "This series has been a platform to highlight the positives in my Indigenous community," says Naomi. "Flowers connect something pure and innocent and culturally relevant to these men; they are grounded in our values and culture."
Naomi is a remarkable young woman, a talented artist also involved in progressing the political and social futures of her community. Dealer Vivien Anderson observes, "Naomi is quite a force of nature. She is driven by her passion for her amazing country and community". What emerges strongly is Naomi's dedication and determination. "My Aboriginality is what grounds me," she says. "My family and my Country mean everything. My paintings are a message from nature, a wake-up call to hold on to what we have."
Naomi Hobson's solo exhibition shows at Vivien Anderson Gallery, Melbourne from 6 – 30 May 2020.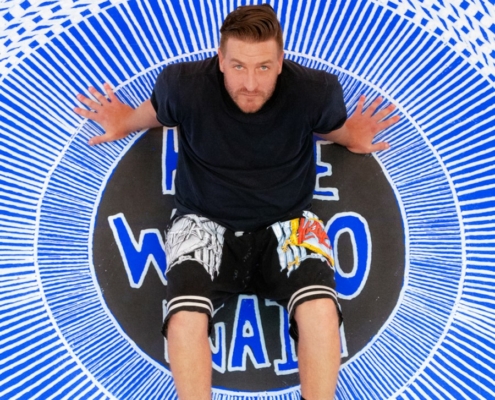 The work of Lucas Grogan may seem quick witted, flippant and off the cuff, but these blue beauties have been a lifetime in the making.
https://artedit.com.au/wp-content/uploads/2020/08/PROFILE-Lucas-Grogan-Long-Story-Short_U4A9820.jpg
901
900
ErinIrwin
https://artedit.com.au/wp-content/uploads/2020/08/Art-Edit-logo-2020_blue.jpg
ErinIrwin
2020-08-20 17:06:06
2020-08-20 17:31:30
Artist Profile: Lucas Grogan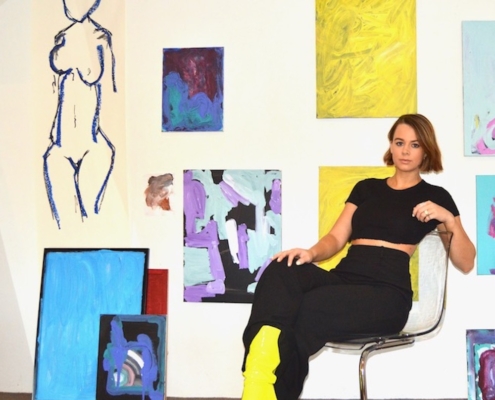 In her spare time, Art Edit's own Isobel Coady-Jiear is diligently refining her art, turning to vivid and strong paint strokes to represent her human experience. Emma Pham writes.
https://artedit.com.au/wp-content/uploads/2020/07/IMG_1842_Facetune_05-05-2020-16-04-14-copy.jpg
1000
1000
Rose Leake
https://artedit.com.au/wp-content/uploads/2020/08/Art-Edit-logo-2020_blue.jpg
Rose Leake
2020-07-10 12:53:51
2020-08-20 17:35:18
Artist Profile: Isobel Coady-Jiear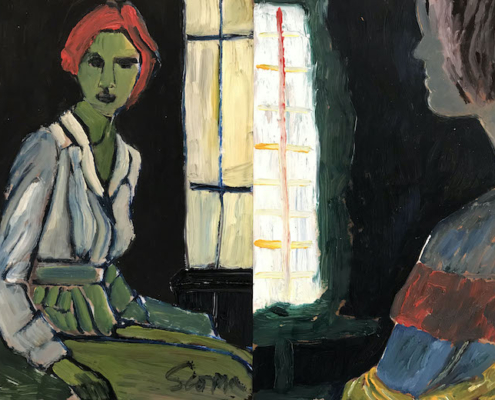 Shaped by trials and tribulations, Joe Scoppa has learnt that the humbling journey towards creating an artwork is much more valuable than the finished design. Emma Pham writes.
https://artedit.com.au/wp-content/uploads/2020/07/1-Window-conversation.jpg
520
800
Rose Leake
https://artedit.com.au/wp-content/uploads/2020/08/Art-Edit-logo-2020_blue.jpg
Rose Leake
2020-07-03 11:14:40
2020-08-20 17:36:20
Artist Profile: Joe Scoppa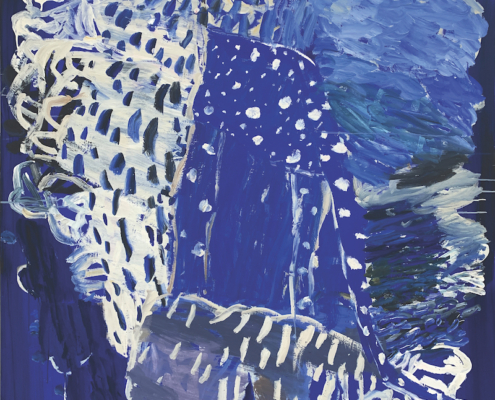 https://artedit.com.au/wp-content/uploads/2020/03/4.-Cassidy_Catherine_RainAtSea_152x152.jpg
800
800
Rose Leake
https://artedit.com.au/wp-content/uploads/2020/08/Art-Edit-logo-2020_blue.jpg
Rose Leake
2020-03-19 12:01:36
2020-03-19 12:01:36
Artist Profile: Catherine Cassidy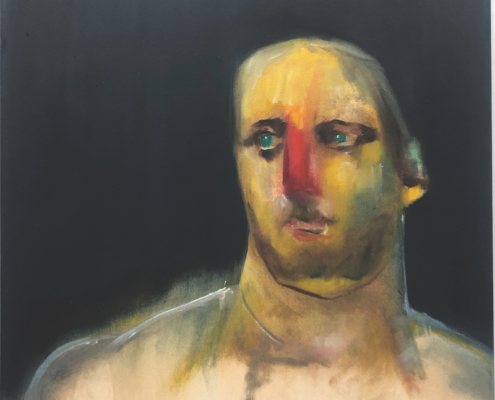 https://artedit.com.au/wp-content/uploads/2020/03/Lisa-Kotoulas-The-Groom45x50cm-�1800-copy.jpg
883
800
Rose Leake
https://artedit.com.au/wp-content/uploads/2020/08/Art-Edit-logo-2020_blue.jpg
Rose Leake
2020-03-19 11:55:14
2020-03-19 11:55:14
Artist Profile: Lisa Kotoulas