[av_one_full first min_height=" vertical_alignment=" space=" custom_margin=" margin='0px' link=" linktarget=" link_hover=" padding='0px' border=" border_color=" radius='0px' background='bg_color' background_color=" background_gradient_color1=" background_gradient_color2=" background_gradient_direction='vertical' src=" background_position='top left' background_repeat='no-repeat' animation=" mobile_breaking=" mobile_display=" av_uid='av-dfs1m'] [av_heading heading='Artist Profile: Jessie Pitt' tag='h1′ link_apply=" link='manually,http://' link_target=" style='blockquote modern-quote modern-centered' size=" subheading_active=" subheading_size='15' margin=" margin_sync='true' padding='10' color=" custom_font=" av-medium-font-size-title=" av-small-font-size-title=" av-mini-font-size-title=" av-medium-font-size=" av-small-font-size=" av-mini-font-size=" av_uid='av-jso142n3′ custom_class=" admin_preview_bg="][/av_heading] [/av_one_full][av_one_fourth first min_height=" vertical_alignment=" space=" custom_margin=" margin='0px' link=" linktarget=" link_hover=" padding='0px' border=" border_color=" radius='0px' background='bg_color' background_color=" background_gradient_color1=" background_gradient_color2=" background_gradient_direction='vertical' src=" background_position='top left' background_repeat='no-repeat' animation=" mobile_breaking=" mobile_display=" av_uid='av-850x'] [av_textblock size=" font_color=" color=" av-medium-font-size=" av-small-font-size=" av-mini-font-size=" av_uid='av-jiv50er6′ custom_class=" admin_preview_bg="]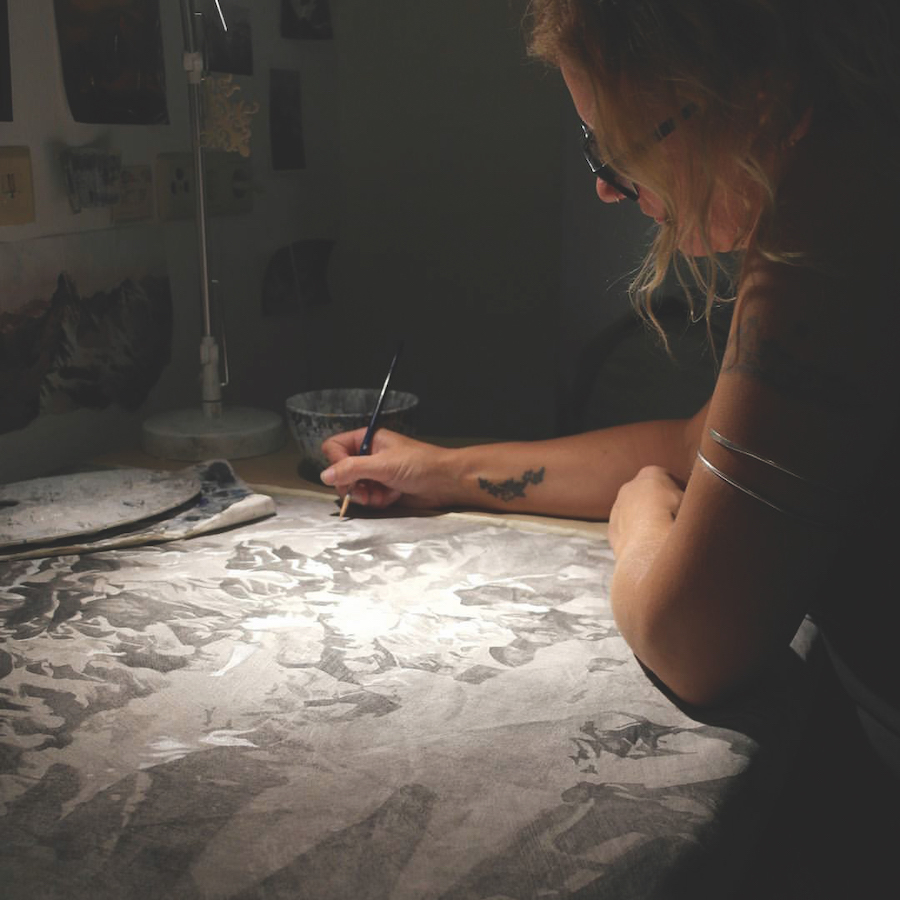 [/av_textblock] [/av_one_fourth][av_three_fourth min_height=" vertical_alignment=" space=" custom_margin=" margin='0px' link=" linktarget=" link_hover=" padding='0px' border=" border_color=" radius='0px' background='bg_color' background_color=" background_gradient_color1=" background_gradient_color2=" background_gradient_direction='vertical' src=" background_position='top left' background_repeat='no-repeat' animation=" mobile_breaking=" mobile_display=" av_uid='av-5jx9′] [av_textblock size=" font_color=" color=" av-medium-font-size=" av-small-font-size=" av-mini-font-size=" av_uid='av-jgw048t9′ custom_class=" admin_preview_bg="]
WORKING BETWEEN HER ORIGINAL HOME IN AUSTRALIA AND HER ADOPTED ONE IN AUSTRIA, ARTIST JESSIE PITT CREATES DRAMATIC, LARGE-SCALE MOUNTAINSCAPES THAT CONSUME THE EYES AND THE SENSES. KATIE MILTON WRITES.
[/av_textblock] [av_hr class='custom' height='50' shadow='no-shadow' position='center' custom_border='av-border-fat' custom_width='50px' custom_border_color=" custom_margin_top='30px' custom_margin_bottom='30px' icon_select='no' custom_icon_color=" icon='ue808′ font='entypo-fontello' av_uid='av-2mw5′ custom_class=" admin_preview_bg="] [/av_three_fourth][av_one_full first min_height=" vertical_alignment=" space=" custom_margin=" margin='0px' link=" linktarget=" link_hover=" padding='0px' border=" border_color=" radius='0px' background='bg_color' background_color=" background_gradient_color1=" background_gradient_color2=" background_gradient_direction='vertical' src=" background_position='top left' background_repeat='no-repeat' animation=" mobile_breaking=" mobile_display=" av_uid='av-fbgru'] [av_textblock size=" font_color=" color=" av-medium-font-size=" av-small-font-size=" av-mini-font-size=" av_uid='av-jgvzw7no' custom_class=" admin_preview_bg="]
IT MAKES SENSE that Melbourne-born artist Jessie Pitt is drawn to the drama of mountain landscapes – or, as she calls them, "the soul of the earth". Having skied since the age of three, on the completion of her art studies in Melbourne she began to follow the snow between Austria and Australia, working as a ski instructor, coach and back-country guide. The mountains have been her muse ever since.
[/av_textblock] [av_hr class='invisible' height='50' shadow='no-shadow' position='center' custom_border='av-border-fat' custom_width='50px' custom_border_color=" custom_margin_top='30px' custom_margin_bottom='30px' icon_select='no' custom_icon_color=" icon='ue808′ font='entypo-fontello' av_uid='av-jgwymecw' custom_class=" admin_preview_bg="] [av_masonry_gallery ids='4106,4102,4104′ items='5′ columns='3′ paginate='none' size='fixed masonry' orientation=" gap='large' overlay_fx='active' animation='active' container_links='active' id=" caption_elements='title' caption_styling='overlay' caption_display='on-hover' color=" custom_bg=" av-medium-columns=" av-small-columns=" av-mini-columns=" av_uid='av-jgyb1oxr' custom_class="] [av_hr class='invisible' height='50' shadow='no-shadow' position='center' custom_border='av-border-fat' custom_width='50px' custom_border_color=" custom_margin_top='30px' custom_margin_bottom='30px' icon_select='no' custom_icon_color=" icon='ue808′ font='entypo-fontello' av_uid='av-jgwymecw' custom_class=" admin_preview_bg="] [av_textblock size=" font_color=" color=" av-medium-font-size=" av-small-font-size=" av-mini-font-size=" av_uid='av-jgvzw7no' custom_class=" admin_preview_bg="] "[I am inspired by] the mountains where I live; all the days and time that I spend up, on and in the mountains; the light, the changing moods, weather and seasons," Jessie tells Art Edit. Much like the slopes, art has always been present in Jessie's life. Her father was a graphic artist and she recalls receiving beautifully hand-painted watercolour cards from her English grandmother on birthdays and at Christmas. Spurred by a childhood spent visiting art galleries and museums, Jessie went on to complete a Visual Arts course at TAFE and an Associate Diploma of Visual Art with a major in Printmaking. Today, she consistently exhibits at home and internationally, and her work is held in private collections throughout Europe, Australia and the United States. At present, the peripatetic Jessie creates from her living space set among the snow-capped mountains of Tirol, a famed ski region fondly known as the heart of the Austrian Alps. Her chosen materials are the result of constant travels between Australia and Austria: the luggage limitations mean that she can only utilise what will fit in her checked baggage. "At the beginning I used only paper [but] in the past few years I have been experimenting and using texture," says Jessie. Before she begins drawing, the artist intentionally crumples the un-stretched canvas. The consequent creases add a naturalistic texture to the slopes of the mountains. She then works either at a desk or on the floor, building layers of graphite, acrylic, ink and sometimes charcoal to give her mountains depth and translucency. "When I am in a flow it can keep going – even from one artwork into the next," says Jessie, who often works late into the night. Music aids in her process, allowing her to focus on the intricate detailing of the peaks and the subtleties of her monochromatic colour palette. Recently, Jessie has been inspired to paint larger works. "This is connected to my desire to create immersive spaces for people to enter; to create an atmosphere that is not just seen but felt," she says. While she remains tight-lipped about details, stay tuned for an exciting upcoming summer project in Austria. "I am not trying to present a mountain portrait as such, but it is also a goal of mine to convey the soul of a place," says Pitt. [/av_textblock] [av_hr class='custom' height='50' shadow='no-shadow' position='center' custom_border='av-border-fat' custom_width='50px' custom_border_color=" custom_margin_top='30px' custom_margin_bottom='30px' icon_select='no' custom_icon_color=" icon='ue808′ font='entypo-fontello' av_uid='av-jgwymecw' custom_class=" admin_preview_bg="] [av_social_share title='Share this story' style='minimal' buttons=" av_uid='av-jgwyjez8′ custom_class=" admin_preview_bg="] [av_hr class='invisible' height='50' shadow='no-shadow' position='center' custom_border='av-border-fat' custom_width='50px' custom_border_color=" custom_margin_top='30px' custom_margin_bottom='30px' icon_select='no' custom_icon_color=" icon='ue808′ font='entypo-fontello' av_uid='av-jgwymecw' custom_class=" admin_preview_bg="] [/av_one_full][av_one_third first min_height=" vertical_alignment=" space=" custom_margin=" margin='0px' link=" linktarget=" link_hover=" padding='0px' border=" border_color=" radius='0px' background='bg_color' background_color=" background_gradient_color1=" background_gradient_color2=" background_gradient_direction='vertical' src=" background_position='top left' background_repeat='no-repeat' animation=" mobile_breaking=" mobile_display=" av_uid='av-7uyf'][/av_one_third] [av_one_third min_height=" vertical_alignment=" space=" custom_margin=" margin='0px' link=" linktarget=" link_hover=" padding='0px' border=" border_color=" radius='0px' background='bg_color' background_color=" background_gradient_color1=" background_gradient_color2=" background_gradient_direction='vertical' src=" background_position='top left' background_repeat='no-repeat' animation=" mobile_breaking=" mobile_display=" av_uid='av-4qt7′] [av_heading tag='h3′ padding='10' heading='Related Stories' color=" style='blockquote modern-quote modern-centered' custom_font=" size=" subheading_active=" subheading_size='15' custom_class=" admin_preview_bg=" av-desktop-hide=" av-medium-hide=" av-small-hide=" av-mini-hide=" av-medium-font-size-title=" av-small-font-size-title=" av-mini-font-size-title=" av-medium-font-size=" av-small-font-size=" av-mini-font-size=" margin=" av_uid='av-3w5w1l'][/av_heading] [/av_one_third] [av_one_third min_height=" vertical_alignment=" space=" custom_margin=" margin='0px' link=" linktarget=" link_hover=" padding='0px' border=" border_color=" radius='0px' background='bg_color' background_color=" background_gradient_color1=" background_gradient_color2=" background_gradient_direction='vertical' src=" background_position='top left' background_repeat='no-repeat' animation=" mobile_breaking=" mobile_display=" av_uid='av-315r'][/av_one_third] [av_one_full first min_height=" vertical_alignment=" space=" custom_margin=" margin='0px' link=" linktarget=" link_hover=" padding='0px' border=" border_color=" radius='0px' background='bg_color' background_color=" background_gradient_color1=" background_gradient_color2=" background_gradient_direction='vertical' src=" background_position='top left' background_repeat='no-repeat' animation=" mobile_breaking=" mobile_display=" av_uid='av-bmqzu'] [av_blog blog_type='taxonomy' link='post_tag,983,187′ blog_style='blog-grid' bloglist_width=" columns='3′ contents='excerpt_read_more' content_length='content' preview_mode='auto' image_size='portfolio' items='6′ offset='no_duplicates' paginate='yes' conditional=" av_uid='av-jgw0l1z3′ custom_class="] [/av_one_full][av_hr class='invisible' height='50' shadow='no-shadow' position='center' custom_border='av-border-fat' custom_width='50px' custom_border_color=" custom_margin_top='30px' custom_margin_bottom='30px' icon_select='no' custom_icon_color=" icon='ue808′ font='entypo-fontello' av_uid='av-jgwymecw' custom_class=" admin_preview_bg="] [av_one_full first min_height=" vertical_alignment=" space=" custom_margin=" margin='0px' link=" linktarget=" link_hover=" padding='0px' border=" border_color=" radius='0px' background='bg_color' background_color=" background_gradient_color1=" background_gradient_color2=" background_gradient_direction='vertical' src=" background_position='top left' background_repeat='no-repeat' animation=" mobile_breaking=" mobile_display=" av_uid='av-45u7′] [av_heading heading='Related Artworks' tag='h3′ link_apply=" link=" link_target=" style='blockquote modern-quote modern-centered' size=" subheading_active=" subheading_size='15' margin=" padding='10' color=" custom_font=" custom_class=" admin_preview_bg=" av-desktop-hide=" av-medium-hide=" av-small-hide=" av-mini-hide=" av-medium-font-size-title=" av-small-font-size-title=" av-mini-font-size-title=" av-medium-font-size=" av-small-font-size=" av-mini-font-size="][/av_heading] [av_hr class='invisible' height='50' shadow='no-shadow' position='center' custom_border='av-border-fat' custom_width='50px' custom_border_color=" custom_margin_top='30px' custom_margin_bottom='30px' icon_select='no' custom_icon_color=" icon='ue808′ font='entypo-fontello' av_uid='av-jgwymecw' custom_class=" admin_preview_bg="] [av_blog blog_type='taxonomy' link='pa_artist,1122,1115,290,1070,709,42,374,399,401,291,452,292,657,454,293,1075,1141,294,453,1135,455,1082,712,295,296,1064,1085,297,456,298,381,1137,1093,1104,368,299,1134,1100,676,300,1109,301,195,704,715,457,394,695,658,458,1096,302,1131,777,303,701,304,708,305,1066,653,1095,459,1139,306,1059,460,307,308,461,660,309,1068,705,310,311,312,1116,1132,682,1074,313,314,43,462,315,1057,316,1110,1076,1114,317,463,1118,158,1089,464,913,667,1072,465,318,515,1062,319,1058,673,1077,1126,320,466,1092,1133,467,321,468,683,1142,163,666,323,322,1098,703,325,324,1136,1053,44,679,45,713,1086,469,1123,289,710,326,375,779,470,1128,380,1069,1087,327,1129,1079,471,678,680,1140,472,671,473,675,370,693,474,664,475,328,329,46,476,1105,659,330,686,1049,372,661,1101,477,331,332,333,1127,1117,677,689,662,478,334,694,663,335,1061,706,1080,691,378,479,336,674,687,1091,480,481,337,714,482,1065,338,382,669,1055,656,1099,1112,483,339,696,484,485,1088,1108,486,692,369,1054,1063,672,780,1047,1125,665,340,1130,341,668,342,343,1119,655,1052,1094,1048,1050,690,487,681,1081,707,344,345,488,1073,373,1060,670,1138,1078,697,1103,346,347,348,349,350,490,351,489,1067,352,685,377,700,1090,491,1102,1111,353,492,493,822,354,355,356,1107,357,702,1120,358,1083,371,1121,359,494,1051,1106,1124,360,688,711,495,698,496,497,498,1071,1113,499,361,376,397,684,500,362,363,379,943,364,365,1056,366,1084,1097,699,367,501′ blog_style='blog-grid' bloglist_width=" columns='3′ contents='title' content_length='content' preview_mode='custom' image_size='woocommerce_thumbnail' items='6′ offset='no_duplicates' paginate='yes' conditional=" av_uid='av-jgw0l1z3′ custom_class="] [/av_one_full]