Expert Eye: In With the Old
What happens when you move into a new home but have an existing art collection? Penny Craswell chats to interior designer Kerry Phelan for her tips on how to hang old art in a new interior.
Kerry Phelan of K.P.D.O. Architecture + Interior Design, Sydney, Melbourne and Hong Kong, recently designed the interiors for Art House, a Victorian terrace owned by an art collector. The collection includes a range of different formats: paintings, photography and sculpture. "If you have a large collection," says Phelan, "then art is a big consideration when planning a new interior."
In the sitting room, three large figurative paintings create a balance hanging on each wall. 
The powder room has two important photography works by Tracey Moffatt. The dining room features a cluster of four Wunda Shields on a black plinth paired with an abstract painting by Papunya Tula artist Charlie Tjapangati beside the fireplace. And in the study, a large landscape by Jason Benjamin hangs above a custom credenza with an Italian mid-century lamp, creating a warm and moody moment.
For Phelan, a lot of it is intuitive: "Choosing a position for each work must feel right," she says. It's also about experimenting with new ways to show work, and about understanding how pieces of art can be combined with furniture and lighting to create a perfectly balanced and curated feel. Here are Phelan's top tips for hanging art in a new interior.
 TIP 1 / Respect the art
If you have a large painting with blue in it, you may be tempted to buy furniture that's blue. Resist the urge! It detracts from the meaning and impact of the artwork if you treat it like an additional element to your interior palette.
TIP 2 / Art isn't only paintings
Artworks might be framed works for the walls, for example paintings, photographs and drawings, but might also include sculpture, ceramic pieces, even vintage elements such as furniture or lamps. A large painting on a wall may work best lit with a vintage lamp on a credenza, or a wall light, creating a moment that works best curated together.
TIP 3 / Lighting art at home
This really depends on the project and the client. Natural light is great of course (not direct sunlight), however direct ceiling lighting might be too obvious – homes aren't galleries. For me, incidental light sources are great – floor lamps, wall lights and so on. Art can also be its own light source.
TIP 4 / To salon hang or not to salon hang
For a salon hang I prefer to hang pieces as a group on the same wall if they are by the same artist or if they're photographs. You can create your arrangement on the floor first, considering the negative space between pictures as much as the positive space. Sometimes pieces may need more or less space between each other to look right.
TIP 5 / Not the usual suspects
There are no rules to hanging art. I prefer to hang my works slightly lower, but don't hesitate to locate art on timber joinery walls, in bathrooms or powder rooms, or in surprise spots, like a tiny work above or to one side of a fireplace. Experiment, and move works around until you feel like it fits.
Image: In the sitting room hangs Great expectations by Ron Francis. All images are of Art House by K.P.D.O. Architecture + Interior Design. Photos: Timothy Kaye. Courtesy: K.P.D.O. Architecture + Interior Design.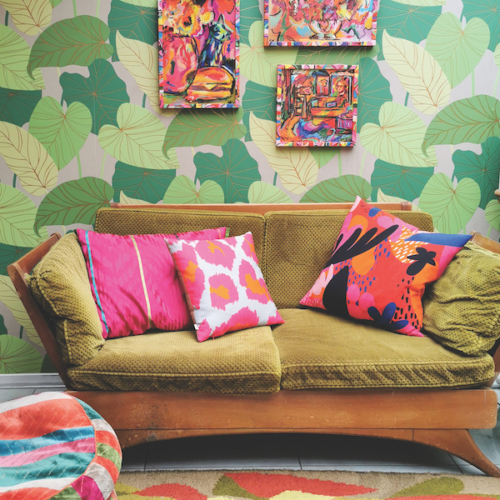 Maximalism is making a serious come back. But how do you ensure patterned walls don't overpower your art? New Zealand-based interior designer Evie Kemp talks us through the process.
https://artedit.com.au/wp-content/uploads/2022/06/IMG_20191015_081832.jpg
815
600
AdrianaBorsey
https://artedit.com.au/wp-content/uploads/2022/06/AE32-web-logo-with-transparency.png
AdrianaBorsey
2022-06-08 11:25:29
2022-06-08 11:25:29
Expert Eye: Art and Wallpaper