Studio Visit: Laurie McKern
THE ART EDIT TEAM TAKES A LOOK INSIDE THE STUDIO
"I have been very fortunate to be granted a studio for a year as part of an artist's residency program at Creative Space, North Curl Curl, in Sydney's Northern Beaches. My studio is a tiny space with large windows filling the room with natural light. It has high ceilings made from the Scout Hall's original tin roof and is crammed full of stuff from floor to rafters, but somehow it doesn't feel cluttered.
It's packed with drawers of fabric, patterned paper, sketch books, art books, electrical frying pans (for wax), every type of paint, candles, glass bottles, rolls of loose canvas, paintings, boards… the list goes on!"
LAURIE MCKERN'S CREATIVITY WAS BORN AT HER GRANDMOTHERS HOUSE IN TORONTO, CANADA. AFTER WORKING IN GRAPHICS AND ILLUSTRATION, LAURIE MOVED TO SYDNEY, SLOWLY MAKING THE MOVE TO FULL-TIME PAINTING.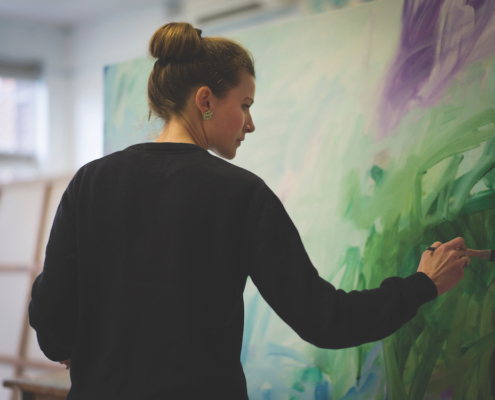 https://artedit.com.au/wp-content/uploads/2020/08/11-ART-EDIT-STUDIO-IMAGE-1.jpg
750
1000
Rose Leake
https://artedit.com.au/wp-content/uploads/2020/11/Logo-Aqua.jpg
Rose Leake
2020-08-26 15:01:50
2020-08-26 16:46:22
Studio Visit: Hanna Rose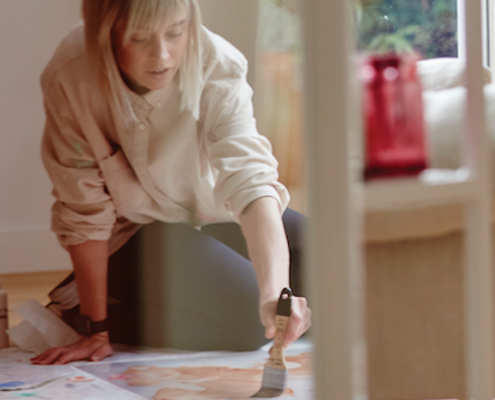 https://artedit.com.au/wp-content/uploads/2020/08/kristen-daniels-studio-visit-copy.png
500
500
YasminePaulaMasi
https://artedit.com.au/wp-content/uploads/2020/11/Logo-Aqua.jpg
YasminePaulaMasi
2020-08-19 12:54:15
2020-08-26 20:28:39
Studio Visit: Kristen Daniels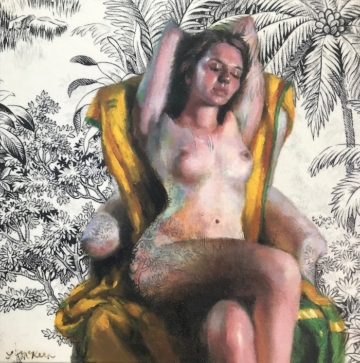 https://artedit.com.au/wp-content/uploads/2020/08/Dreaming-of-The-Jungle.jpg
705
700
LAURIE
https://artedit.com.au/wp-content/uploads/2020/11/Logo-Aqua.jpg
LAURIE
2020-02-12 12:47:29
2020-09-23 15:08:38
Dreaming of The Jungle
https://artedit.com.au/wp-content/uploads/2020/08/Alicia-Drinking-Wine-at-The-Gallery.jpg
875
700
LAURIE
https://artedit.com.au/wp-content/uploads/2020/11/Logo-Aqua.jpg
LAURIE
2019-08-12 12:31:23
2020-11-19 14:40:54
Alicia Drinking Wine at The Gallery, Mixed Media Collage by Laurie McKern