FROM THE SMALLEST LEAF OR BLADE OF GRASS TO THE MAJESTY OF THE MOUNTAINS, MERON SOMERS FINDS PERSONALITY IN PRECISION.
How would you describe what you do to someone who hasn't seen your art?
My paintings are large with a particular focus of peering into the centre of a flower and seeing all it's beautiful details. All my work is connected to nature in one way or the other. The light plays a very important part in giving the subject a strong character and it's very own powerful personality. I like to see the personality of a flower develop, almost like a bee's view, and see how the petals twist and turn to create such loveliness.
How long have you been practicing as an artist?
I was first introduced to watercolour painting years ago when I was studying interior design, at that time it was important to be able to paint a representation of the room that you were presenting to a client, it was a vital tool.  I had a wonderful teacher who encouraged fine detailing that set me up for the rest of my life.
I have been painting full time now for three years, before that I would only paint when I could snatch time away from my busy interior design practice.
What is your studio like?
I have one studio at my 140-year-old Queensland home in the inner city suburb of Teneriffe, Brisbane and another in Tyalgum in the Northern Rivers of NSW. My city paintings tend to be finer details, tighter and more controlled where the country paintings are looser, the details are much more relaxed with big sweeps of colour. It is an absolute treat to be able to capture different light, attitude and pace.
What materials do you use & why?
I use acrylics paints on canvas, I enjoy the ability to blend the colours, change the texture from very fine to quite thick and chunky and importantly the acrylic paint dries quickly so there are no hold ups if I want to go in a different direction.
First step is to draw the image onto the canvas with chalk, I take some time to ensure that it is how I see it in my mind and then I paint in the broader details and finally the finer details until I am finished.
What have you been working on recently?
My latest work is the continuation of a collection that I completed for The Other Art Fair at Barangaroo in Sydney, (now postponed) that is called A Walk in the Garden. Some of the paintings have black backgrounds and with images in bold strong colours while others have lighter backgrounds and are more delicate, all are real statement pieces.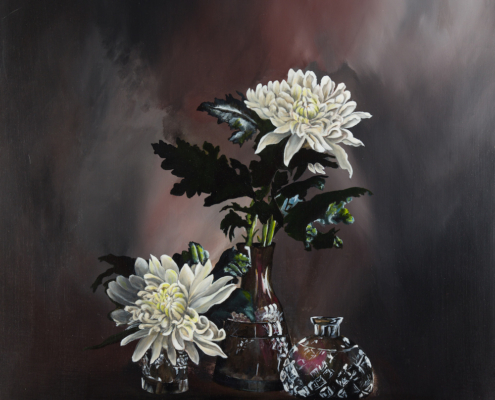 https://artedit.com.au/wp-content/uploads/2020/04/Meron-Somers-title-WHITE-DAHLIAS-acrylic-on-canvas-size-90cm-x-90cm-�2600.jpg
1000
1000
Rose Leake
/wp-content/uploads/2018/05/Art-Edit-Magazine.png
Rose Leake
2020-04-21 10:22:03
2020-04-30 13:16:03
Q + A: Meron Somers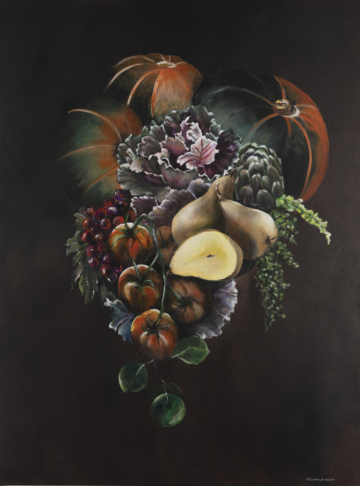 https://artedit.com.au/wp-content/uploads/2020/03/WINTER-HARVEST_PRINT_LOWCONTRAST-scaled-e1585268933134.jpg
945
700
MERON SOMERS
/wp-content/uploads/2018/05/Art-Edit-Magazine.png
MERON SOMERS
2020-05-02 11:29:11
2020-05-05 11:31:09
WINTER HARVEST
https://artedit.com.au/wp-content/uploads/2020/03/LIGHT-AS-A-FEATHER-e1585268857133.png
700
700
MERON SOMERS
/wp-content/uploads/2018/05/Art-Edit-Magazine.png
MERON SOMERS
2020-04-27 11:27:55
2020-05-05 11:31:17
LIGHT AS A FEATHER
https://artedit.com.au/wp-content/uploads/2020/03/STILL-LIFE.-e1585269054471.png
700
700
MERON SOMERS
/wp-content/uploads/2018/05/Art-Edit-Magazine.png
MERON SOMERS
2020-03-27 11:31:11
2020-03-27 11:31:12
STILL LIFE
https://artedit.com.au/wp-content/uploads/2020/03/a-burst-of-spring-e1585268786357.png
700
700
MERON SOMERS
/wp-content/uploads/2018/05/Art-Edit-Magazine.png
MERON SOMERS
2020-03-27 11:26:46
2020-03-27 11:26:46
A BURST OF SPRING