Project Sheet: Personality Plus
ARTWORKS WITH CHARM, HUMOUR AND PLAYFULNESS CAPTURE THE PERSONALITY OF A YOUNG FAMILY WITH FLAIR. REBECCA GROSS WRITES. PHOTOGRAPHY BY ANSON SMART.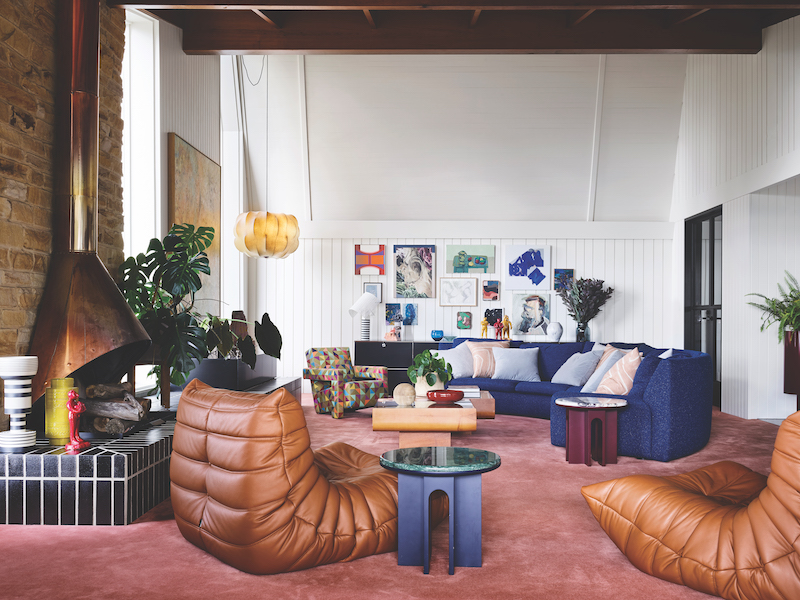 The owners of this Sandy Bay house engaged Flack Studio Interiors to create a personality-filled home with bold 1970s flair.
EMMA AND JOSH PETTERWOOD moved to Hobart in 2016 with their two young boys and big dreams for their family and home. They bought a 1970s house in Sandy Bay and engaged Flack Studio to create a fun, playful and unpretentious home in which they could raise their children, one day retire and even see their boys married on the deck. The design team took inspiration from the architecture and family to create a contemporary home with 1970s character and to build an art collection that captures the Petterwoods' personality. "For a young family starting their art collection journey, the first pieces are the most important," says interior designer David Flack, director of Flack Studio. "If done well and with true emotional connection, the collection will have a mind of its own and tell you what it needs next." Emma and Josh's art collection began once they had moved into their finished house.
Having worked with the couple through the interior design process, David developed a sense of the artworks that would interest them and reflect their personality, family and home. Over the next 12 months, he introduced Emma and Josh to contemporary artists from the Tasmanian community. "We don't believe in choosing artwork for a space. We believe it's more important to have a connection with the artist first," David says. Paintings by Hobart-based artists hang throughout the home, including Jane Giblin's ink-and-oil A Genoa Pair in the kitchen, and large paintings by Alex Davern and Anne Mestitz, which add bold blocks of colour to the timber-lined hallway and dining area.
A commissioned artwork by Jahnne Pasco-White is on the opposite wall of the dining area. Flack Studio has collaborated with the artist on multiple projects and Emma and Josh fell in love with one of her artworks in Flack Studio's office. "The tone of Jahnne's work is calming and her exploration of colour played well with our approach to colours and materials in Emma and Josh's home," David says.
Flack Studio mixed bold, rich colours with tactile materials and finishes prevalent in the 1970s: terrazzo, stone walling, brick detail and copper and brass with a handmade feel. Contemporary and vintage furniture also harks back to this era with large, comfortable and lounge forms, including Ligne Roset's Togo armchairs and a Soriana lounge chair by Afra and Tobia Scarpa. Contemporary and vintage is also mixed in the salon style hang on the living room wall. "We love salon hangs for clients starting their art collection as it's an easy way to begin. Everything works in a salon hang if you connect with each individual piece," David says. It features artworks by all Australian artists – Sean Bailey, Peter Davidson, Merryn Lloyd, Toby Raine, Kate Tucker and Alice Wormald – while sculptures and objects by Joel Crosswell, Michael Doolan and Mish Meijers inject more playfulness and fun.
Individually and together the artworks and sculptures capture the personality of the Petterwoods and their Hobart home. "They have charm, humour and curiosity," David says. "Everything this young family has in spades."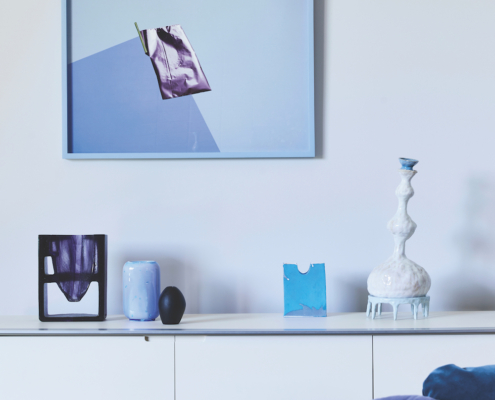 https://artedit.com.au/wp-content/uploads/2020/08/Bock_Ashmore034-1.jpg
1026
1000
Rose Leake
https://artedit.com.au/wp-content/uploads/2020/08/Art-Edit-logo-2020_blue.jpg
Rose Leake
2020-08-25 13:44:54
2020-08-25 13:44:54
Project Sheet: A State of Blue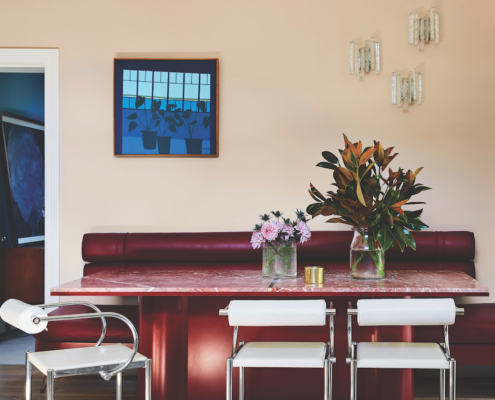 https://artedit.com.au/wp-content/uploads/2020/08/Punt_Rd_05196290_RTS-1.jpg
1000
1004
Rose Leake
https://artedit.com.au/wp-content/uploads/2020/08/Art-Edit-logo-2020_blue.jpg
Rose Leake
2020-08-25 13:29:14
2020-08-25 13:29:14
Project Sheet: Art Abounds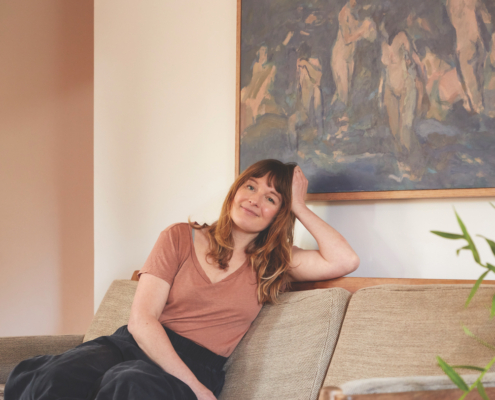 https://artedit.com.au/wp-content/uploads/2020/08/ArtEditJessicaTremp-0458-1.jpg
1000
1004
Rose Leake
https://artedit.com.au/wp-content/uploads/2020/08/Art-Edit-logo-2020_blue.jpg
Rose Leake
2020-08-25 13:04:07
2020-08-25 13:04:07
Living With Art: Everlasting Love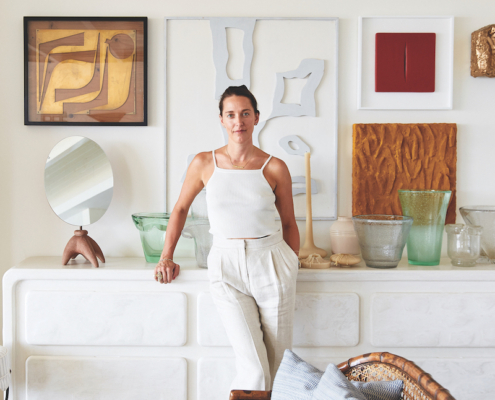 https://artedit.com.au/wp-content/uploads/2020/03/011-1.jpg
1200
1201
Rose Leake
https://artedit.com.au/wp-content/uploads/2020/08/Art-Edit-logo-2020_blue.jpg
Rose Leake
2020-03-19 11:30:32
2020-03-19 11:30:32
Living with Art: Hungry for More