Project Sheet: Living in Wonderland
PACKED TO THE RAFTERS WITH COLOUR, STYLE AND A SENSE OF MAGIC, THIS CONTEMPORARY HOME IS AN ART LOVER'S DREAM. REBECCA GROSS WRITES. PHOTOGRAPHY BY ANSON SMART.
"The client has an incredible eye for fashion and her love of art is an extension of this," says interior designer Claire Delmar of Studio CD Design. Claire worked with the home owner to inject a sense of fun and youthfulness into this grand Victorian estate, selecting contemporary artworks that express their love of fashion, art and colour.   
The Italianate residence presents a grand façade with ornate ironwork and classical ornamentation. The interior architecture is equally grand and decorative and is painted in white and light-grey tones to provide a neutral backdrop layered with furnishings and artwork reflecting the homeowners' vibrant personalities. "The house feels calm and serene and like a magical wonderland as colour, wallpaper and décor tell a story in each room," Claire describes.
The client had some special and sentimental artworks, which Claire used as a foundation to curate a collection, procuring bright, bold pieces that play with shapes and movement and have fashion and the female form as a recurring motif.
Matthew Johnson's Nimbus Rosa and Joe Suzuki's Balloon Puppy set the playful tone at the entry of the house. "Nimbus Rosa has amazing presence and the bold scale brings lightness into the otherwise dark entrance," Claire says.
Miguel Vallinas' photograph inspired the colour palette in the formal living room, where navy blue and shades of grey are balanced with soft pink and the deep red of Antonia Mrlijak's Influential Conception 1. "The client and I were not passionate about red, but we embraced the boldness and it gives this room life," says Claire. James King's Dijon Rooftop is set in an antique art stand and plays on the idea of looking out the window to a French cityscape.
The French influence and scenic view continue in the formal dining room, where Petrina Hicks' Blue Bird is juxtaposed against picturesque wallpaper from Ananbô. "This French wallpaper provides a story for the dining room. It makes you feel like you're dining outside in a beautiful garden, while the model in nude-coloured clothing represents the calmness felt in nature and the bluebird is at one with the landscape," says Claire.
As in Blue Bird, the female form is a recurring theme throughout the artworks and sculpture. Alied Nijp-Holman's sculpture Girl with Tail sits on a bright orange pedestal in the informal dining room and unites the client's love of both art and fashion. Casper Faassen's Hanae has a mysterious and romantic disposition in the master bedroom, and Thomas Bucich's Nude Study VII complements the calm palette in the guest bedroom, which offers a sense of escape.
The client and Claire shared images of artworks throughout the process, finding space in the house for those they loved. Wall space became limited as the collection grew, so Claire curated an art wall on the landing with mixed mediums and sculptures that capture the client's love of colour and art. "It's a wonderful feeling when you can make the client's vision come to life."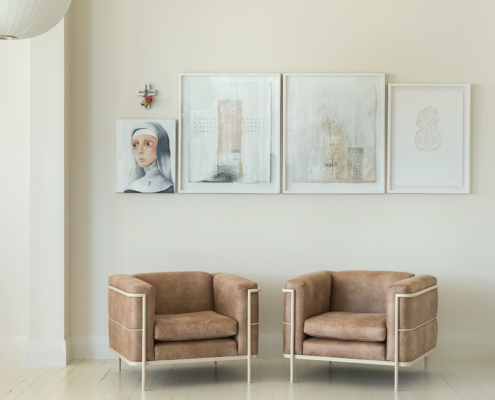 This high-end bachelor pad awash with light and personality is the perfect stage for pairing art with design. Erin Irwin writes. 
https://artedit.com.au/wp-content/uploads/2021/08/Screen-Shot-2021-08-03-at-4.15.53-pm-copy.png
786
800
Maddy Matheson
https://artedit.com.au/wp-content/uploads/2021/09/AE29-web-logo-copy.jpg
Maddy Matheson
2021-08-03 16:30:24
2021-09-06 13:35:17
Project Sheet: Labour of Love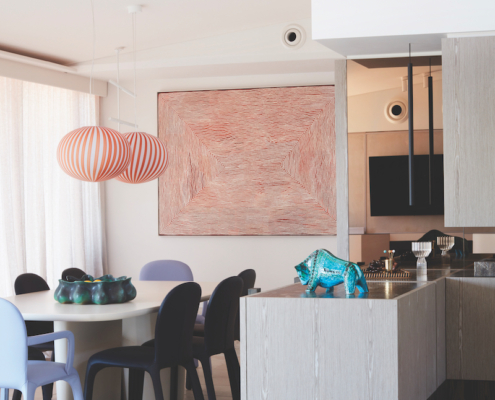 Rich with memories of adventure, the art in this penthouse home is as diverse and eclectic as the couple who lives there. Erin Irwin writes. Photography by Prue Ruscoe.
https://artedit.com.au/wp-content/uploads/2020/11/YSG-Studio_Crane-in-the-Sky_High27.jpg
1126
800
Rose Leake
https://artedit.com.au/wp-content/uploads/2021/09/AE29-web-logo-copy.jpg
Rose Leake
2020-11-25 15:39:25
2021-07-20 12:38:34
Project Sheet: New Horizons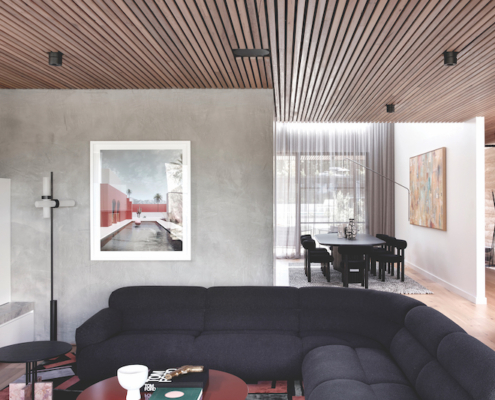 In Mornington Peninsula's exquisite hinterland stands a home with a gallery-worthy collection. Pilar Mitchell takes us inside. Photography by Sean Fennessey.
https://artedit.com.au/wp-content/uploads/2020/11/20200204_Red_Hill_017HIGH-RES.jpg
533
800
Rose Leake
https://artedit.com.au/wp-content/uploads/2021/09/AE29-web-logo-copy.jpg
Rose Leake
2020-11-25 15:10:14
2021-07-20 12:40:50
Project Sheet: Home is Where the Art Is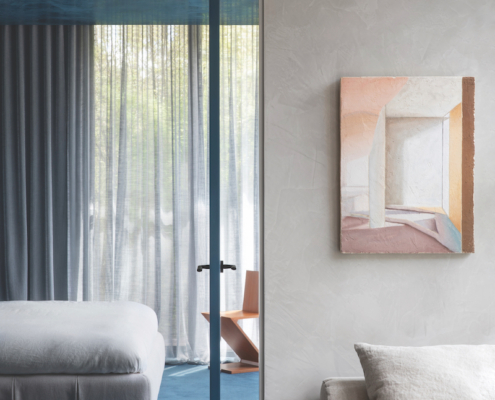 Interior designer Chelsea Hing gives the art in this family home surprising new bearings. Camilla Wagstaff writes. Photography by Rhiannon Taylor.
https://artedit.com.au/wp-content/uploads/2020/11/CHELSEAHING_PARKORCHARDS_RHIANNONTAYLOR_BEDROOM-13.jpg
1129
800
Rose Leake
https://artedit.com.au/wp-content/uploads/2021/09/AE29-web-logo-copy.jpg
Rose Leake
2020-11-25 15:09:22
2021-07-20 12:41:47
Project Sheet: A Fruitful Endeavour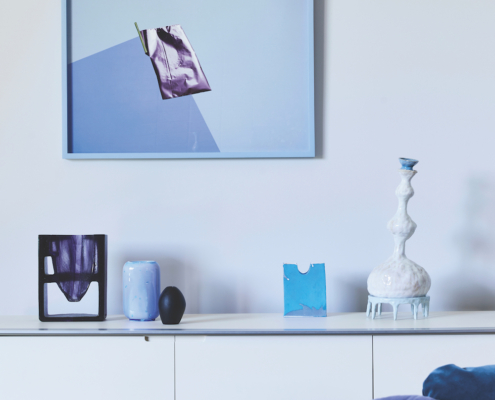 https://artedit.com.au/wp-content/uploads/2020/08/Bock_Ashmore034-1.jpg
1026
1000
Rose Leake
https://artedit.com.au/wp-content/uploads/2021/09/AE29-web-logo-copy.jpg
Rose Leake
2020-08-25 13:44:54
2020-08-25 13:44:54
Project Sheet: A State of Blue
https://artedit.com.au/wp-content/uploads/2020/07/20200307_203916.jpg
865
847
Jennifer
https://artedit.com.au/wp-content/uploads/2021/09/AE29-web-logo-copy.jpg
Jennifer
2020-07-24 11:00:56
2021-05-27 11:59:48
Whitehaven Beach, painting by Jennifer Baird
https://artedit.com.au/wp-content/uploads/2020/10/CFAltJHRRapi2PiwCdtrw_thumb_197c.jpg
1024
980
Liz
https://artedit.com.au/wp-content/uploads/2021/09/AE29-web-logo-copy.jpg
Liz
2020-07-06 11:18:07
2020-11-06 11:20:53
Smiths Creek, oil painting by Liz Muir 
https://artedit.com.au/wp-content/uploads/2020/07/ScarletFrameSq.jpg
1591
1590
Angela
https://artedit.com.au/wp-content/uploads/2021/09/AE29-web-logo-copy.jpg
Angela
2020-06-03 12:16:45
2021-08-08 11:23:39
Scarlet Honeyeater Study, photographic print by Angela Robertson-Buchanan
https://artedit.com.au/wp-content/uploads/2020/07/DroughtMockUp_Sq.jpg
1024
1023
Angela
https://artedit.com.au/wp-content/uploads/2021/09/AE29-web-logo-copy.jpg
Angela
2020-06-13 12:23:35
2021-08-06 16:39:25
Drought, Featuring Yellow-faced Honeyeaters, photographic print by Angela Robertson-Buchanan