Project Sheet: Express Yourself
ARTIST THOMAS PAULE ENGAGED LONG-TIME FRIEND PETER KENNON TO REDESIGN HIS SPANISH MISSION-STYLE HOME. THE RESULT WAS A SPACE BRIMMING WITH PERSONAL IDENTITY. REBECCA GROSS WRITES. PHOTOGRAPHY BY CAITLIN MILLS.
Peter Kennon and Thomas Paule studied art together at school. Although neither went on to become professional artists, they have continued to be creative: Peter is now an architect and director of Kennon Studio, and Thomas works in marketing and digital for a financial services group. Thomas has also continued to paint for personal enjoyment and when he engaged Peter to redesign his Spanish Mission-style house it provided an opportunity to have his artworks on display.
"Creating and sharing art can be a difficult thing to do, as the creative expression is often very personal," says Peter. "I knew the benefits this project would have on Tom and I wanted to enable him to show his works as an extension of his personality and embodiment of his identity throughout the home."
Peter had a good understanding of what Thomas wanted for his house, given their long-standing friendship. He restored the heritage details of the Spanish Mission house and created a contemporary interior with restrained material palette – clean white surfaces, crisp black detailing and stained timber floors – to showcase the artworks. This includes pieces by Tom, as well as other instrumental artists.
Artists such as Jean Michel Basquiat, Pablo Picasso, Brett Whiteley and Francis Bacon have influenced Thomas and his work subsequently demonstrates an interest in characters, human anatomy and abstraction. Peter and Thomas discussed placement of the artworks during the design process, but Thomas made the final decision. "As the paintings carry a deeper meaning for him, he needed to be comfortable with the artworks he wants to see every day," Peter explains.
Thomas' Nigerian Poet hangs on the most prominent wall, in the kitchen and dining room. The colour palette reflects that of the house, while the looseness of the brushwork and expressive style layers provides personality in the minimalist space. Thomas' work-in-progress pieces rest against the wall in his studio and will hopefully take a place in the house or that of collectors.
Anthony Bennett's Arthur Boyd as Time Lord packs a punch in the living room, hung above the white porcelain-topped sideboard. "You can recognise similar influences in Anthony's work to Thomas'. There is a blend of tight and loose techniques, deep colours and meanings through portrait and text," says Peter. "You can sense the thought process of the artist."
Thomas composed the vignette at the entry vestibule where the floor sculpture continues the anatomy theme with an animal skull set on a stone plinth. The neon light on the wall behind is Basquiat's graffiti tag with a crown and the word SAMO (meaning 'same old shit'). The crown symbolised Basquiat's ambition while SAMO was a commentary on the exclusivity of the New York art world.
Working with a long-time friend proved a rewarding experience for both Peter and Thomas. "For Tom to live in a house that makes him feel good and to belong to his own space is the measure of success in the project."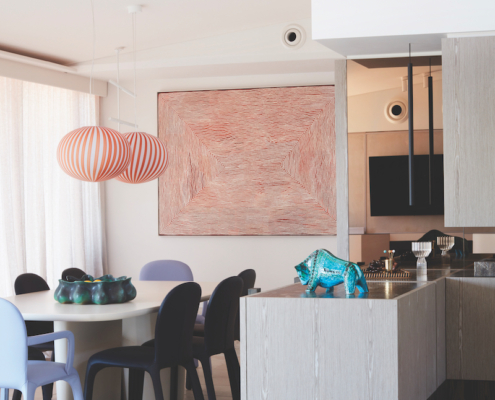 RICH WITH MEMORIES OF ADVENTURE, THE ART IN THIS PENTHOUSE HOME IS AS DIVERSE AND ECLECTIC AS THE COUPLE WHO LIVES THERE.
https://artedit.com.au/wp-content/uploads/2020/11/YSG-Studio_Crane-in-the-Sky_High27.jpg
1126
800
Rose Leake
https://artedit.com.au/wp-content/uploads/2021/05/AE28-web-logo-4.jpg
Rose Leake
2020-11-25 15:39:25
2021-01-19 13:09:46
Project Sheet: New Horizons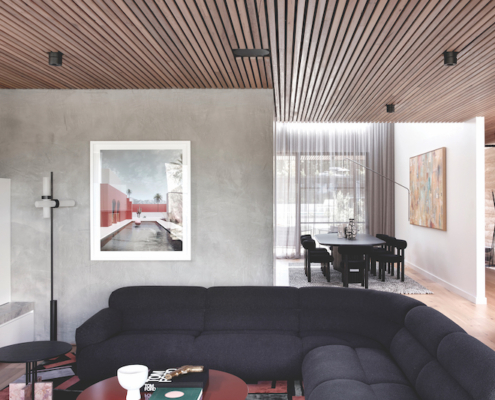 IN MORNINGTON PENINSULA'S EXQUISITE HINTERLAND STANDS A HOME WITH A GALLERY-WORTHY COLLECTION.
https://artedit.com.au/wp-content/uploads/2020/11/20200204_Red_Hill_017HIGH-RES.jpg
533
800
Rose Leake
https://artedit.com.au/wp-content/uploads/2021/05/AE28-web-logo-4.jpg
Rose Leake
2020-11-25 15:10:14
2020-11-25 15:10:14
Project Sheet: Home is Where the Art Is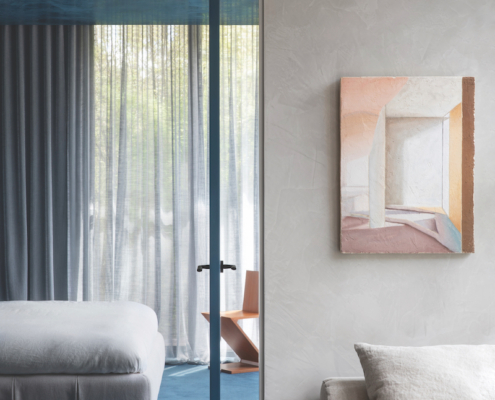 INTERIOR DESIGNER CHELSEA HING GIVES THE ART IN THIS FAMILY HOME SURPRISING NEW BEARINGS.
https://artedit.com.au/wp-content/uploads/2020/11/CHELSEAHING_PARKORCHARDS_RHIANNONTAYLOR_BEDROOM-13.jpg
1129
800
Rose Leake
https://artedit.com.au/wp-content/uploads/2021/05/AE28-web-logo-4.jpg
Rose Leake
2020-11-25 15:09:22
2020-11-25 15:09:22
Project Sheet: A Fruitful Endeavour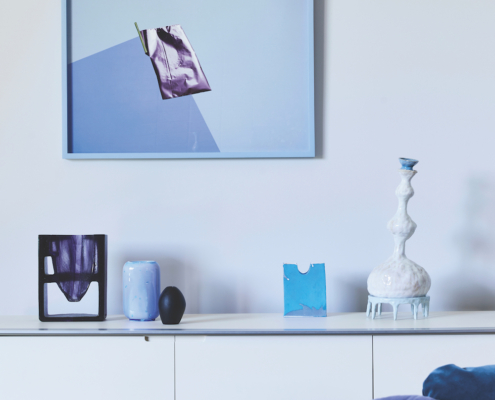 https://artedit.com.au/wp-content/uploads/2020/08/Bock_Ashmore034-1.jpg
1026
1000
Rose Leake
https://artedit.com.au/wp-content/uploads/2021/05/AE28-web-logo-4.jpg
Rose Leake
2020-08-25 13:44:54
2020-08-25 13:44:54
Project Sheet: A State of Blue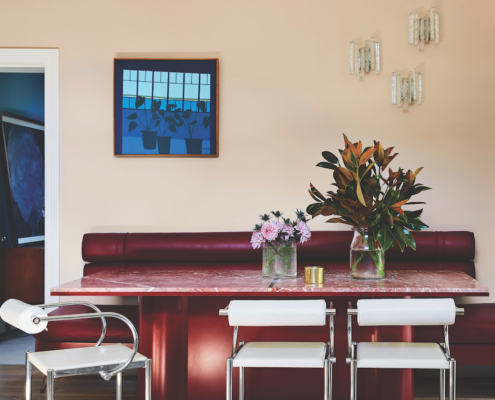 https://artedit.com.au/wp-content/uploads/2020/08/Punt_Rd_05196290_RTS-1.jpg
1000
1004
Rose Leake
https://artedit.com.au/wp-content/uploads/2021/05/AE28-web-logo-4.jpg
Rose Leake
2020-08-25 13:29:14
2020-08-25 13:29:14
Project Sheet: Art Abounds
https://artedit.com.au/wp-content/uploads/2020/07/YTBCMockUpSq.jpg
2000
2000
Angela
https://artedit.com.au/wp-content/uploads/2021/05/AE28-web-logo-4.jpg
Angela
2020-06-03 12:25:21
2020-07-03 12:27:12
Yellow-tailed Black Cockatoo Feather Study
https://artedit.com.au/wp-content/uploads/2020/06/20200416_132052-scaled.jpg
2560
2537
Jennifer
https://artedit.com.au/wp-content/uploads/2021/05/AE28-web-logo-4.jpg
Jennifer
2020-06-09 11:00:54
2021-05-29 13:24:44
Blue Trees
https://artedit.com.au/wp-content/uploads/2020/07/RTBCMockUpSq-e1594183972347.jpg
1000
1000
Angela
https://artedit.com.au/wp-content/uploads/2021/05/AE28-web-logo-4.jpg
Angela
2020-07-08 15:00:01
2021-01-31 02:04:25
Red-tailed Black Cockatoo Feather Study
https://artedit.com.au/wp-content/uploads/2018/08/MaryDonnelly-Green-Jug-and-Chair-scaled.jpg
2560
2517
Mary
https://artedit.com.au/wp-content/uploads/2021/05/AE28-web-logo-4.jpg
Mary
2020-08-16 11:35:52
2021-03-09 07:06:49
Green Jug and Chair, painting by Mary Donnelly