Ones to Watch: Hollie McKenzie
THE ART EDIT TEAM PRESENTS THE ARTISTS ON ITS RADAR RIGHT NOW.
Hollie McKenzie's bold iconographic oil paintings are a carefully directed collision of historical and contemporary imagery. Her layering of complex metaphors probe the realms of religious sanctity and digital reality and enable her to construct scenes that are as beautiful as they are confronting. Hollie has been accepted to participate in the 2021 Florence Biennale based on her technical virtuosity and assured Neo Rococo style. Using her daughter as her muse, Hollie describes her work as, "a tense imagination about the future for children in an increasingly compromised world". Daringly beautiful, Hollie's work may well be a playful yet sinister mirror of reality.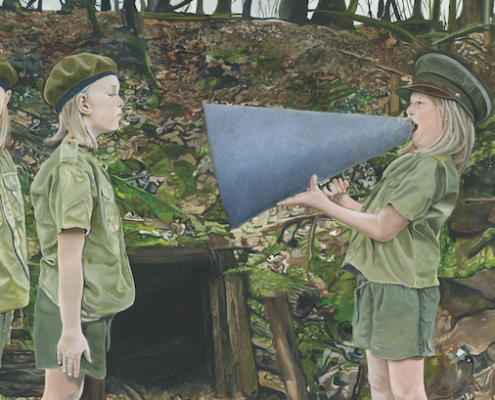 Art Edit's selection of standout artists fighting for change.
https://artedit.com.au/wp-content/uploads/2021/03/HollieMcKenzie_OilOnAlupanel_1800x1220mm_Gallery_WEB-1.jpg
506
506
Maddy Matheson
https://artedit.com.au/wp-content/uploads/2021/09/AE29-web-logo-copy.jpg
Maddy Matheson
2021-03-05 14:44:33
2021-03-05 14:44:33
Best of Activist Art: Hollie McKenzie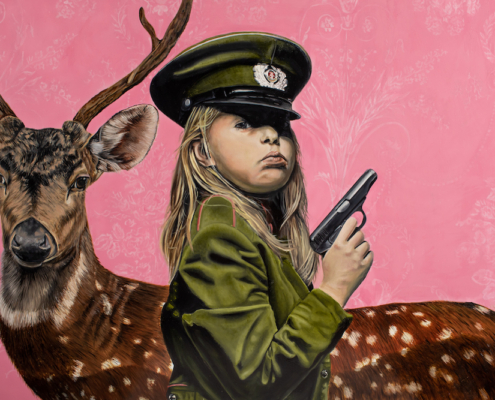 https://artedit.com.au/wp-content/uploads/2020/08/Hollie-2.jpg
667
1000
Rose Leake
https://artedit.com.au/wp-content/uploads/2021/09/AE29-web-logo-copy.jpg
Rose Leake
2020-08-26 10:40:55
2020-08-26 10:40:55
Ones to Watch: Hollie McKenzie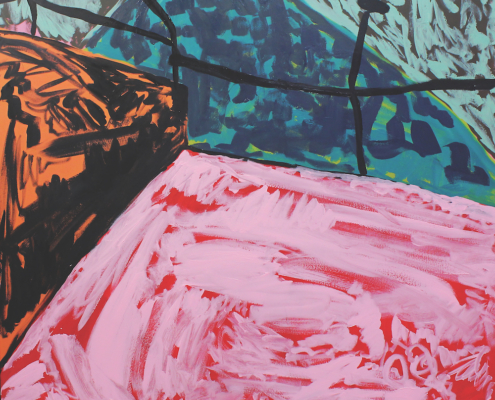 https://artedit.com.au/wp-content/uploads/2020/04/Amber-Hearn_Lands-Court_Acrylic-on-Canvas_162.5cm-x-162.5cm_�5100_Courtesy-Amber-Hearn-2.jpg
995
1000
Rose Leake
https://artedit.com.au/wp-content/uploads/2021/09/AE29-web-logo-copy.jpg
Rose Leake
2020-06-21 13:10:41
2020-08-26 10:23:54
Ones to Watch: Amber Hearn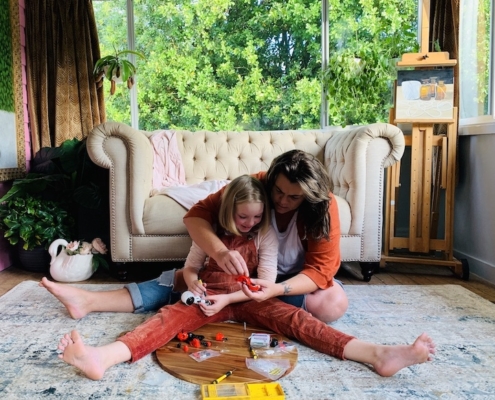 https://artedit.com.au/wp-content/uploads/2020/06/DCC192E5-20C1-450C-AF83-B7A48F30C33D.jpeg
582
800
Rose Leake
https://artedit.com.au/wp-content/uploads/2021/09/AE29-web-logo-copy.jpg
Rose Leake
2020-06-09 10:51:11
2021-01-18 13:48:13
Virtual Studio Visit: Hollie McKenzie