One's to Watch: Eden Diebel
THE ART EDIT TEAM PRESENTS THE ARTISTS ON ITS RADAR RIGHT NOW.
Eden Diebel's photographic works have a strange transformative power that is at once macabre and beautiful. His aim for the past decade has been to challenge the perception of still life photography whilst making images that have a striking solitary power. Shot in low-key natural light, his work is influenced by a powerful lineage of portraiture dating back to Leonardo's chiaroscuro and Dutch 17th-century painting. Eden's objects are given humanesque dignification and sit somewhere between science fiction and antiquity.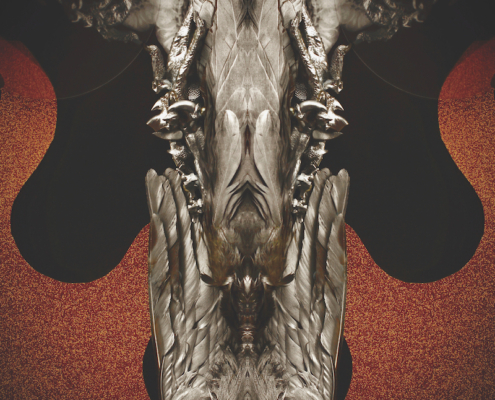 THE WORK: EDEN DIEBEL, FIRE BIRD.
https://artedit.com.au/wp-content/uploads/2020/11/Eden-Diebal-fire-bird.jpg
1090
800
Rose Leake
https://artedit.com.au/wp-content/uploads/2021/09/AE29-web-logo-copy.jpg
Rose Leake
2020-11-25 15:15:21
2020-11-25 15:15:21
Showcase: Eden Diebel
https://artedit.com.au/wp-content/uploads/2020/02/acute-case-of-the-monumental-scaled.jpeg
1815
2560
EDEN
https://artedit.com.au/wp-content/uploads/2021/09/AE29-web-logo-copy.jpg
EDEN
2020-03-09 10:09:38
2021-03-18 16:47:03
Acute Case of the Monumental, fine art print by Eden Diebel
https://artedit.com.au/wp-content/uploads/2020/10/black-summer-bird-scaled.jpg
2560
1880
EDEN
https://artedit.com.au/wp-content/uploads/2021/09/AE29-web-logo-copy.jpg
EDEN
2020-04-08 12:25:07
2021-07-28 14:24:43
Black Summer (Bird), fine art print by Eden Diebel
https://artedit.com.au/wp-content/uploads/2020/10/MASSIMO-scaled.jpeg
2560
2560
EDEN
https://artedit.com.au/wp-content/uploads/2021/09/AE29-web-logo-copy.jpg
EDEN
2020-10-06 11:47:03
2021-07-28 14:31:38
Massimo, Mixed Media by Eden Diebel
https://artedit.com.au/wp-content/uploads/2020/10/skogar-scaled.jpg
2424
2560
EDEN
https://artedit.com.au/wp-content/uploads/2021/09/AE29-web-logo-copy.jpg
EDEN
2020-09-06 12:20:14
2021-03-18 16:31:19
skogar, fine art print by Eden Diebel