One's to Watch: Meron Somers
THE ART EDIT TEAM PRESENTS THE ARTISTS ON ITS RADAR RIGHT NOW.
The rich palette of Meron Somers' nature-inspired paintings gives still-life new meaning. Golden light bursts from the canvas while deep royal hues of velvety purple and green entice the viewer ever closer. With a love of interior design and a passion for nature and flowers, Meron is interested in viewpoints and the endless compositional possibilities of her subject. Whether it be the always-sunny sub-tropical climate of her Brisbane surrounds or the cooler mountain terrains of the Northern Rivers of New South Wales, which she visits frequently, her paintings constantly evolve in response to her daily experiences and beautifully capture the transience of mood and light.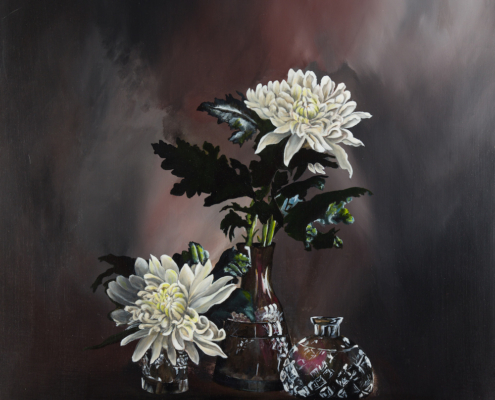 From the smallest blade of grass to the majesty of the mountains, Meron Somers finds personality in precision.
https://artedit.com.au/wp-content/uploads/2020/04/Meron-Somers-title-WHITE-DAHLIAS-acrylic-on-canvas-size-90cm-x-90cm-�2600.jpg
1000
1000
Rose Leake
https://artedit.com.au/wp-content/uploads/2020/11/Logo-Aqua.jpg
Rose Leake
2020-04-21 10:22:03
2020-08-27 08:34:28
Q + A: Meron Somers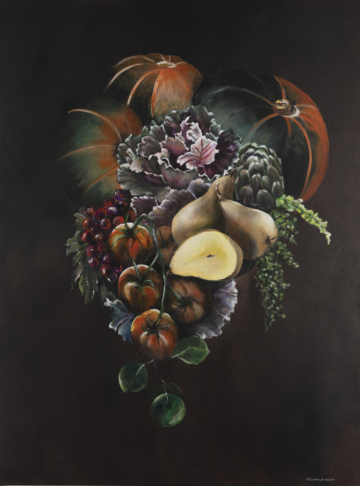 https://artedit.com.au/wp-content/uploads/2020/03/WINTER-HARVEST_PRINT_LOWCONTRAST-scaled-e1585268933134.jpg
945
700
MERON SOMERS
https://artedit.com.au/wp-content/uploads/2020/11/Logo-Aqua.jpg
MERON SOMERS
2020-05-02 11:29:11
2020-05-05 11:31:09
WINTER HARVEST
https://artedit.com.au/wp-content/uploads/2020/03/LIGHT-AS-A-FEATHER-e1585268857133.png
700
700
MERON SOMERS
https://artedit.com.au/wp-content/uploads/2020/11/Logo-Aqua.jpg
MERON SOMERS
2020-04-27 11:27:55
2020-08-28 23:04:16
LIGHT AS A FEATHER
https://artedit.com.au/wp-content/uploads/2020/03/STILL-LIFE.-e1585269054471.png
700
700
MERON SOMERS
https://artedit.com.au/wp-content/uploads/2020/11/Logo-Aqua.jpg
MERON SOMERS
2020-03-27 11:31:11
2020-08-28 23:13:27
STILL LIFE
https://artedit.com.au/wp-content/uploads/2020/03/a-burst-of-spring-e1585268786357.png
700
700
MERON SOMERS
https://artedit.com.au/wp-content/uploads/2020/11/Logo-Aqua.jpg
MERON SOMERS
2020-03-27 11:26:46
2020-03-27 11:26:46
A BURST OF SPRING