Living/Loving: Gallery Getaway
THE COUPLE BEHIND ARTSTAY HOBART HAD A WILD IDEA FOR THEIR ART COLLECTION: TO ENTRUST IT TO THEIR AIRBNB GUESTS. KATIE MILTON WRITES.
WHEN ARGENTINIAN-BORN artist Fernando do Campo and his partner Vino Rajandran were visiting Hobart for an exhibition earlier this year, they attended an open house on a whim. What they found was a rundown 1890s workers' cottage, the entire façade of the house hidden behind an untamed grapevine. Despite the overgrowth, they were sold.
Seven months on and you can find the same house listed on Airbnb as Artstay Hobart, a curated gallery home that allows guests to live among contemporary art – a rare opportunity to test out what it might be like to live in a gallery.
"The project is an opportunity for us to support early career Australian and international artists, queer artists, young women artists, Indigenous artist, and present them in a domestic space," says Fernando.
While the pair currently live in an art-filled rental in Sydney's Paddington that doubles as Fernando's painting studio, their Tasmanian roots are strong. Years prior, the two then-Tassie residents met at MONA's annual Dark Mofo Festival. Since then, Fernando – a former director of Sawtooth ARI Gallery in Launceston – has introduced Vino, a Singaporean-born agricultural scientist, to the world of art collecting.
"We're trying to share the idea of living with contemporary art with strangers; this idea that you can have a video work permanently installed in a living room, and a textile installation in the corridor – these more experimental ways of collecting," says Vino.
Come December, Artstay will launch an ongoing collaboration with London-based gallery Daata Editions, an online gallery that commissions artists for moving image and sound works. Daata Editions is set to curate a series of digital works for Artstay, among them some of the gallery's first commissioned Australian works.
Taking great care to respect the heritage of the original house, a local builder helped the pair peel back the foundational layers of the cottage, re-exposing the fireplaces and the original metal and brickwork. After a trip to the state library archives failed to produce a record of the home, the pair managed to date it by the square-headed nails they found in the floorboards. "A pre-1900s nail," says Vino.
"It was really interesting finding this in the house and then layering that history with charged contemporary works like the Jacolby Satterwhite video," he adds.
The pair intentionally painted the home walls a stark shade of gallery white. The self-styled interiors feature warming pops of colour and more art than furniture. The collection – which includes everything from a timer-controlled light work to one of Fernando's own wall murals – is set to rotate every six months.
"We want our guests to leave with a new experience of living with art. They're not in a gallery. It's about the fact they can spend as long as they want with that video; they can look at that textile work; they can sleep under that painting. That's the key difference," says Fernando.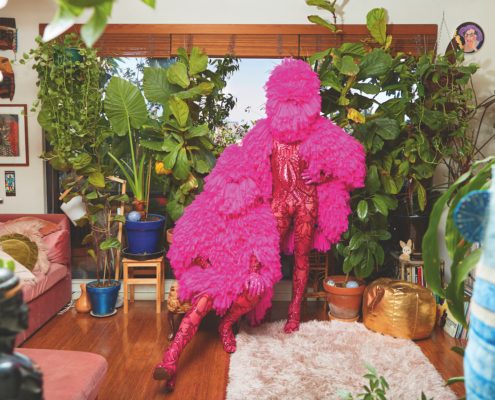 Through costume, video and performance art, Melbourne-based artists The Huxleys embrace sparkly worlds of kitsch and queer.
https://artedit.com.au/wp-content/uploads/2019/03/FEATURE-The-Huxleys.jpg
900
1600
Kirsty Sier
/wp-content/uploads/2018/05/Art-Edit-Magazine.png
Kirsty Sier
2019-03-06 16:19:24
2019-03-16 11:13:19
Living/Loving: More is More, Less is a Bore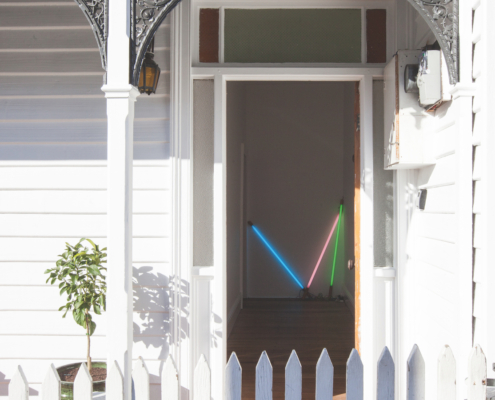 The couple behind Artstay Hobart had a wild idea for their art collection: to entrust it to their AirBnB guests.
https://artedit.com.au/wp-content/uploads/2018/11/AirBnB_Hobart_HD-27.jpg
900
1600
Kirsty Sier
/wp-content/uploads/2018/05/Art-Edit-Magazine.png
Kirsty Sier
2018-11-06 14:24:44
2018-11-06 14:24:44
Living/Loving: Gallery Getaway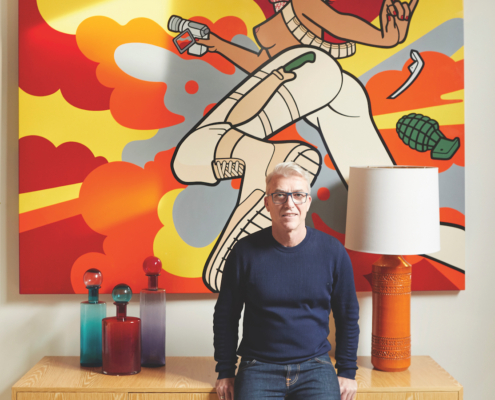 High contrast, pops of colour and large-scale artworks invigorate the interiors of Andrew Parr's residence.
https://artedit.com.au/wp-content/uploads/2018/07/FEATURE_AndrewParr-0116-2.jpg
900
1593
Kirsty Sier
/wp-content/uploads/2018/05/Art-Edit-Magazine.png
Kirsty Sier
2018-07-24 03:51:58
2018-07-24 03:51:58
Living/Loving: Clash of the Walls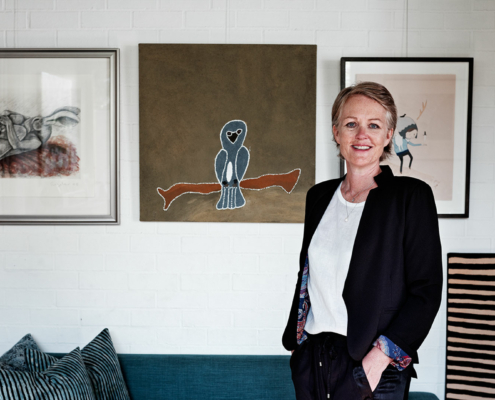 IF ABORIGINAL ART DEALER NICHOLA DARE ISN'T BEATING AROUND THE OUTBACK, SHE IS VERY HAPPY TO BE IN HER HOME- CUM-GALLERY IN SYDNEY.
https://artedit.com.au/wp-content/uploads/2017/11/Untitled-1-1.jpg
1080
1920
Art Edit
/wp-content/uploads/2018/05/Art-Edit-Magazine.png
Art Edit
2018-03-16 14:47:09
2018-06-26 21:03:09
Living/Loving: Love of Country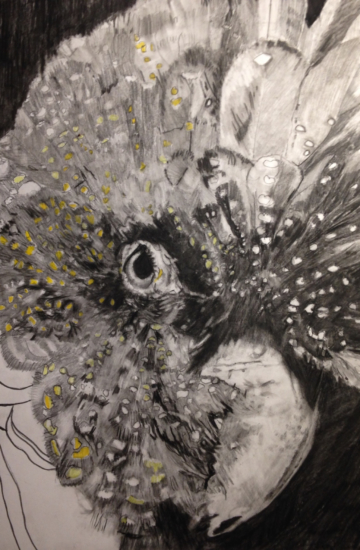 https://artedit.com.au/wp-content/uploads/2018/07/Kathryn-Lewis-yellow-tailed-cockatoo-1.jpg
1958
2000
Kathryn
/wp-content/uploads/2018/05/Art-Edit-Magazine.png
Kathryn
2018-08-09 14:33:33
2018-08-09 14:33:34
Yellow Tailed Cockatoo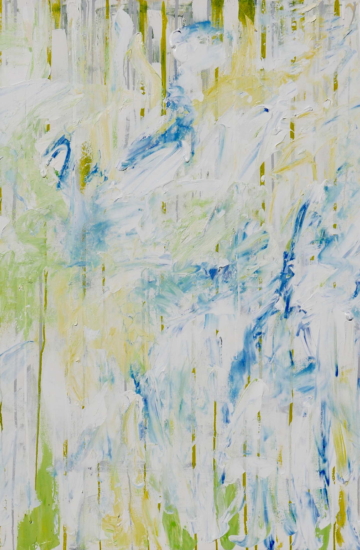 https://artedit.com.au/wp-content/uploads/2018/07/Windsong_153x137_l1000441.jpg
1685
1500
Liz
/wp-content/uploads/2018/05/Art-Edit-Magazine.png
Liz
2018-07-26 15:24:39
2018-08-09 14:32:26
Windsong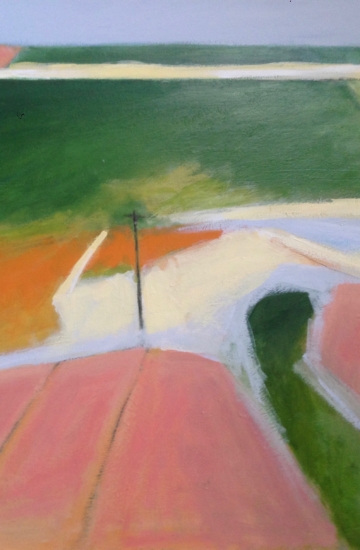 https://artedit.com.au/wp-content/uploads/2018/08/Mary-Donnelly-Untitled-Landscape-1.jpg
2429
3039
Mary
/wp-content/uploads/2018/05/Art-Edit-Magazine.png
Mary
2018-08-14 15:07:32
2018-08-14 15:07:32
Untitled Landscape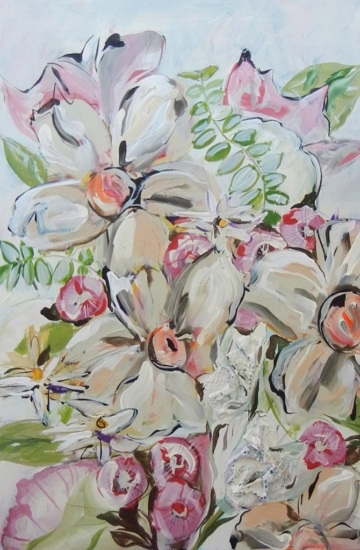 https://artedit.com.au/wp-content/uploads/2018/08/untitled.jpg
1024
795
Dianna
/wp-content/uploads/2018/05/Art-Edit-Magazine.png
Dianna
2018-08-07 10:38:45
2018-08-07 10:38:45
Untitled