Last Word: Shelley Simpson
OUR EDITOR CATCHES UP WITH SHELLEY SIMPSON, FOUNDER OF MUD AUSTRALIA, TALKING TIMELESS DESIGN FOR CONTEMPORARY LIVING AND A NEW CERAMICS PRIZE.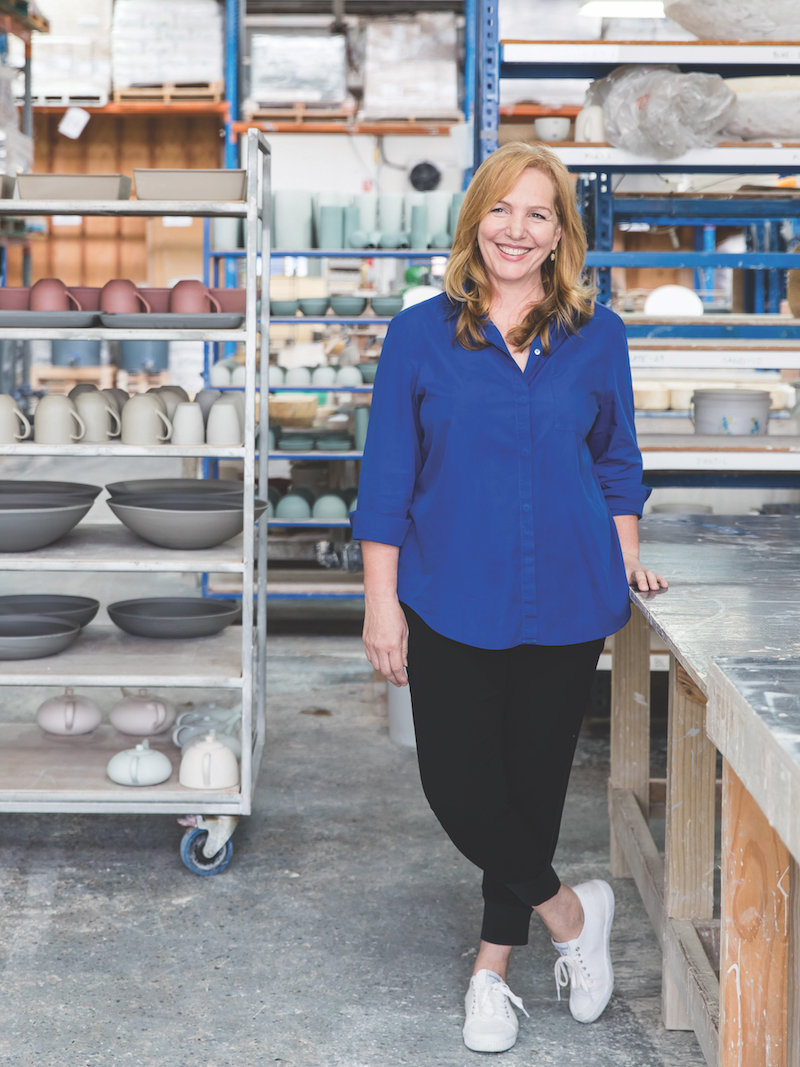 Shelley Simpson, founder of Mud Australia. photo: Nikki To.
Can you tell us about your background as an artist and designer?
I've always been a creative person. I spent my 20s working in theatres and singing in bands. It wasn't until my late 20s that a flatmate invited me to have a go at her potter's wheel. I never studied art or design, but the last 25 years have been a constant process of self-teaching, experimentation and playfulness.
Mud pieces are timeless and have maintained a distinctly contemporary design. How have you managed to do this?
When I started Mud in 1994, the market was saturated with highly decorated, glazed and shiny ceramics. While these were beautiful, I wanted to create something ultra simple, matte and refined. I've always been led by making pieces that I need for my home, my family or requests from friends, chefs and food stylists. The very first piece that I made is almost identical to our Flared Bowl, which we still make and sell today. I think I've always trusted my design instincts and gut, oh and Dieter Rams' principle of Less but Better.
How would you describe the design aesthetic of Mud Australia?
Simple, clean and functional. We've never created seasonal ranges or followed design trends. I design new pieces when I feel something is missing. I never use pattern – less is always more.
Mud pieces are all 100% porcelain. What is it about this medium that you love?
Personally, I love working with porcelain at the slip stage – it is smooth and silky. I still find slip casting with porcelain a mesmerising process. We used to make all of our pieces from earthenware, but it was not as functional. The decision to transition to porcelain was an easy one. Its edge is fine and delicate, when fired it is vitrified and stonelike. You can put your Mud in the oven, dishwasher and microwave. The simplicity of our pieces carries through to the simplicity Mud products bring to your home and lifestyle.
Mud products are all handmade in a workshop in Sydney. How important is maintaining a 100% Australian made and owned product in the face of increasing globalisation and mass production?
While it has always been important to manufacture in Australia from an ethical perspective, the decision to manufacture locally was never a tricky one. What I love about my job is being on the factory floor and connecting with our team. We love our studio, our team and the wider Marrickville community. In times like these, it has been even more meaningful to have our community so close. My partner and I live around the corner from our studio and a lot of our team are within a short bike ride or walk.
How important is having sustainable and beautifully designed functional art objects in the home?
These are the things that bring joy to a home. A beautifully designed object has functionality and brings with it its own story and soul. Mud is special in my home because it invites a sense of calm and playfulness in the same breath.
You recently launched the Shelley Simpson Ceramics Prize. Can you tell us a bit about the prize and its importance?
This is something I have wanted to do for a long time. But 2020 really brought to light Australia's lack of care and support for the art and design community. The prize is our way of giving back and supporting our emerging ceramicists. The rising generation of ceramicists is really inspiring. Their work touches all the right areas: environmental, social, visual and useful! After watching my daughter financially struggle with her investment in her final year of fine art studies, despite our support, I realised others may not be so lucky. It is my hope that this award will nurture and support some of our brightest ceramicists in the years to come.
Are there any ceramics (or non-ceramic) artists you have recently been inspired by, or that we should be keeping an eye on?
I recently purchased an Eliza Gosse painting from a YMO Projects event, which I love. She beautifully paints classic Australian architecture within the natural environment. Oh… and I will always love Angus Gardner's large-scale sculptures.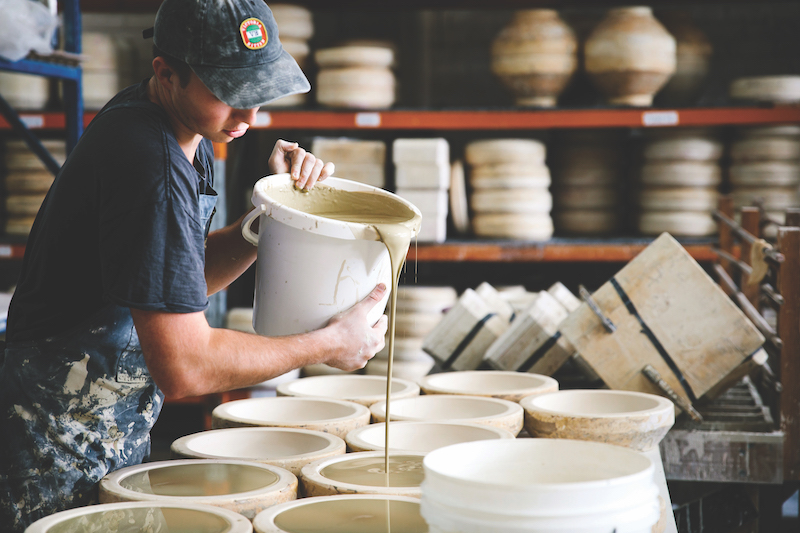 At the pouring stage in the Mud studio. Photo: Becca Crawford.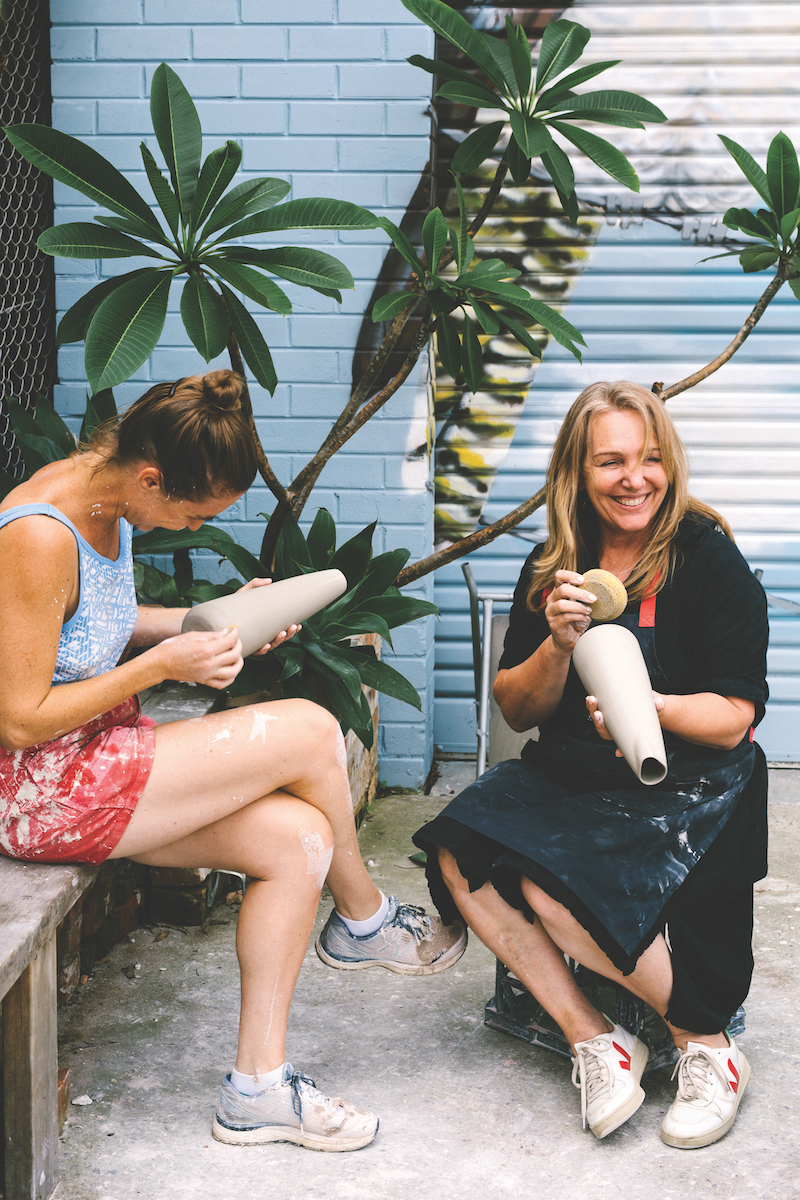 Shelley finishing off a vase before it goes into the kiln. Photo: Becca Crawford.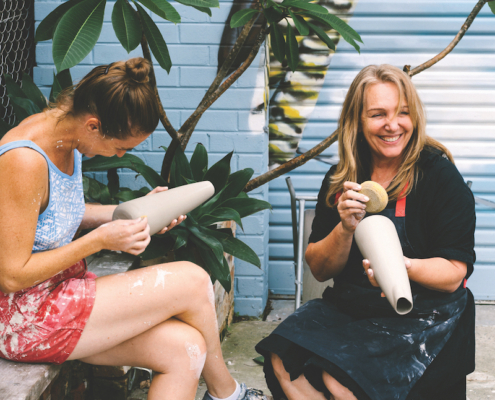 OUR EDITOR CATCHES UP WITH SHELLEY SIMPSON TALKING TIMELESS DESIGN FOR CONTEMPORARY LIVING AND A NEW CERAMICS PRIZE.
https://artedit.com.au/wp-content/uploads/2020/11/Shelley-Simpson-Portrait-2020_Photographer-Becca-Crawford-2.jpg
1200
800
Rose Leake
https://artedit.com.au/wp-content/uploads/2021/09/AE29-web-logo-copy.jpg
Rose Leake
2020-11-25 15:40:15
2021-01-27 13:02:56
Last Word: Shelley Simpson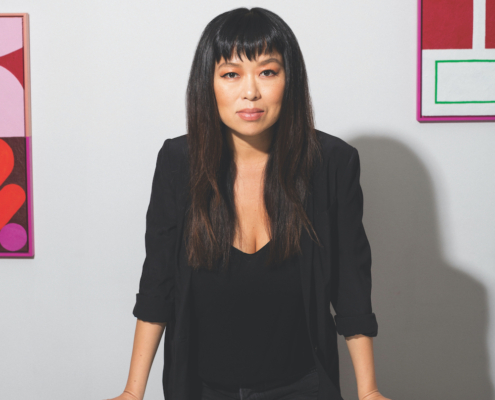 https://artedit.com.au/wp-content/uploads/2020/08/ex.shipp_190531_3513_-1.jpg
1003
1000
Rose Leake
https://artedit.com.au/wp-content/uploads/2021/09/AE29-web-logo-copy.jpg
Rose Leake
2020-08-25 12:41:27
2020-08-25 12:41:27
Last Word: Kitty Clark