In Conversation With: Melinda Hunter
Awash with pink, the works of Melinda Hunter symbolise the wonderment of emotion.
How would you describe what you do to someone who hasn't seen your art?
I feel categorising my work may restrain a viewer's perception of the piece. However, I feel most connected to the movement of Abstract Impressionism, with a focus on landscape. My choice of shape and colour is influenced by experiences, past and present. My impressionist influence stems from my wonder of the calmness in nature. When I look at landscapes, I feel a serene energy that inspires art making, and when combined with my therapeutic use of vibrant colour, my creative style is truly expressed. I hope that not only will my practice help me, but that it may help any viewer of my works.
Tell us about your art journey.
I attended International School of Colour & Design (ISCD) and achieved a Cert IV in Design in 2016. I have also completed many workshops with well-known Australian artists such as Idris Murphy, Catherine Cassidy and Belynda Henry. I have been a practicing artist for around six years. During that time, I have explored a range of mediums, techniques and materials to find a practice that best represents who I am as an artist and as a person. Though I have a set group of mediums, techniques, and materials, I find I'm still growing, learning, and changing to better my practice.
You use mostly pink in your work, why do you gravitate towards this colour and what does it mean to you?
My aim is to stir a deep emotional response from the viewer. Using pink symbolises deep emotion and my aim is to be inspired and inspire others through a transfer of emotion through my work. I work mainly with acrylic on canvas in the studio and gouache on paper en plein air. These mediums suit my style as I like to work quickly and utilize my time effectively.
What is your process? 
I start with a messy layer on the canvas and then make marks through the wet paint to develop shape and form. I then refine with the push and pull of colour, shape and negative space until I reach a desired composition. This process can take anywhere between a number of days to several weeks.
What are you working on now?
My current body of work is created from a memory of deconstructed fragments and elements of the landscape.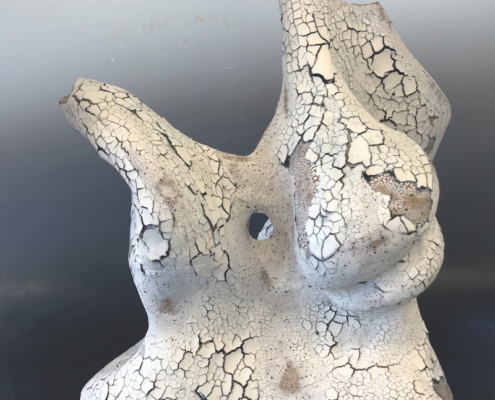 https://artedit.com.au/wp-content/uploads/2021/05/Yegana-Jafarova-Dreaming-of-rain.-Stoneware-and-glazes.-350mm-x-350mm-x-350-mm-�1500.-Courtesy-the-artist..jpg
1067
800
Maddy Matheson
https://artedit.com.au/wp-content/uploads/2021/09/AE29-web-logo-copy.jpg
Maddy Matheson
2021-05-28 12:56:23
2021-05-31 10:15:22
In Conversation With: Yegana Jafarova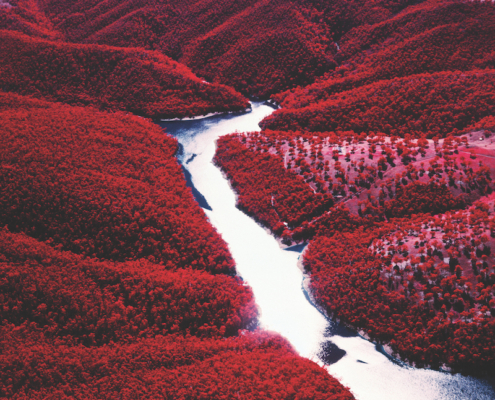 https://artedit.com.au/wp-content/uploads/2021/05/Karrikins-4.jpg
1058
800
Maddy Matheson
https://artedit.com.au/wp-content/uploads/2021/09/AE29-web-logo-copy.jpg
Maddy Matheson
2021-05-28 11:51:54
2021-05-31 10:15:25
In Conversation With: Rob Walwyn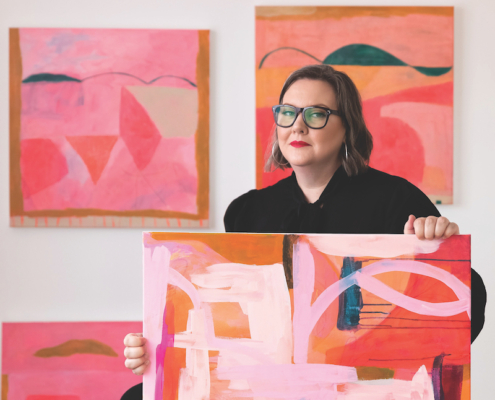 https://artedit.com.au/wp-content/uploads/2021/05/gkf4lsyQ.jpeg
1200
800
Maddy Matheson
https://artedit.com.au/wp-content/uploads/2021/09/AE29-web-logo-copy.jpg
Maddy Matheson
2021-05-28 11:36:56
2021-05-31 10:15:33
In Conversation With: Melinda Hunter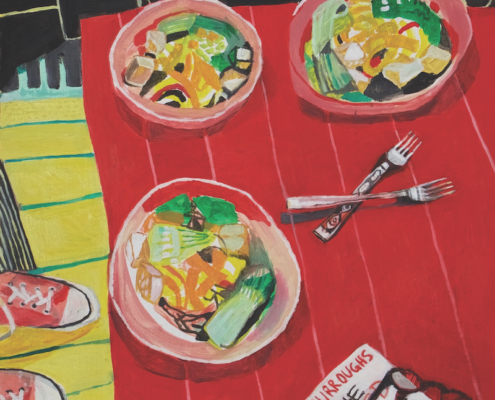 https://artedit.com.au/wp-content/uploads/2021/05/Lunch-at-Archys-oil-on-board-82.5-cm-x-66.5-cmx-0.5cm-�1200-Courtesy-The-artist.jpg
983
800
Maddy Matheson
https://artedit.com.au/wp-content/uploads/2021/09/AE29-web-logo-copy.jpg
Maddy Matheson
2021-05-28 11:29:09
2021-07-20 14:08:30
In Conversation With: Mandy Francis