Gallery Panel: Phoebe Kim
Art Edit presents a selection of original artworks to make your own.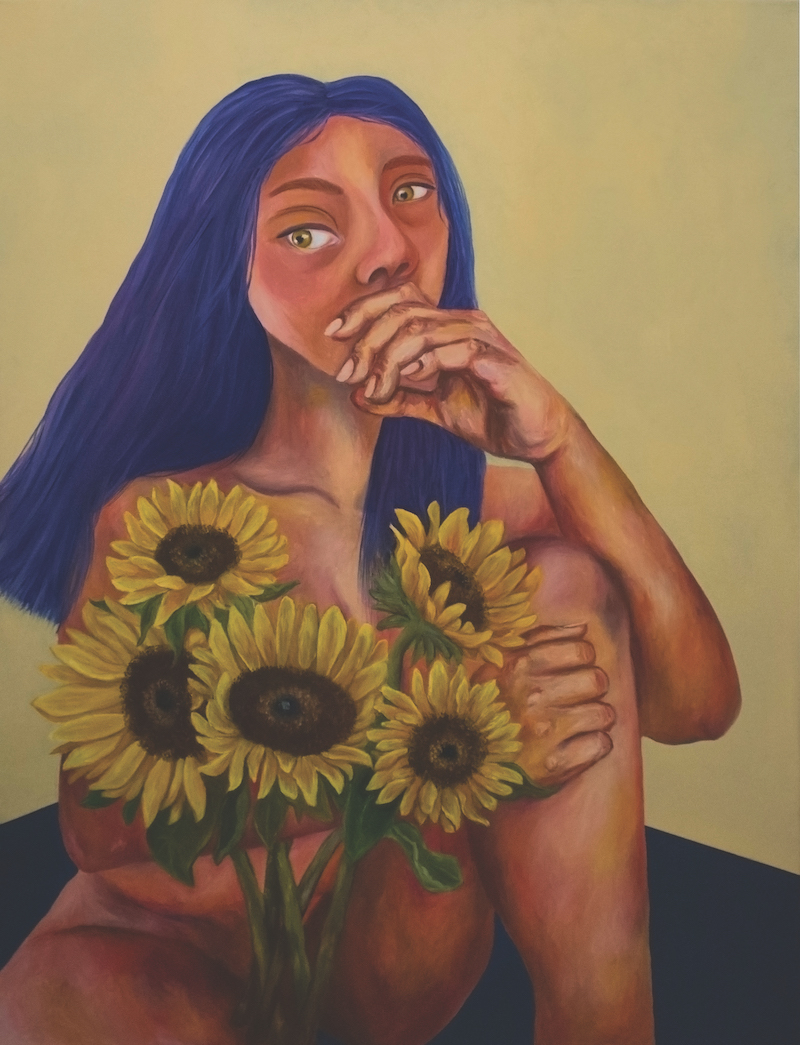 Phoebe Kim, I've filled me up with sunflowers. Oil on canvas, 107 x 80cm. Courtesy: the artist.
Dylan Foley
Gallery Manager and Co-Curator, Boom Gallery
Phoebe's practice explores her own cultural identity and the constant microaggressions she experiences. Processing and exposing perpetual racism through painting, her portraits tackle prejudices with a sense of humour. The subject in I've Filled Me Up With Sunflowers employs the female gaze; empowered, with agency she claims the space.
Art Edit Magazine
Amy Rose
Manager, Saint Cloche Gallery
The ease of Phoebe's painted figure, sitting open and reflective, disarms you immediately. Sunflower sprigs bloom up from between the subject's legs, drawing our attention to her vulnerable thighs. A thick swathe of purple hair sways as if the subject is crystallised in a moment of swift and necessary confidence. One hand wittingly grazes against her mouth as if to speak of the effect of preconception. Phoebe beautifully skews her subject's eyes to furthermore shed light on the disorder embodied by another's gaze.
Art Edit Magazine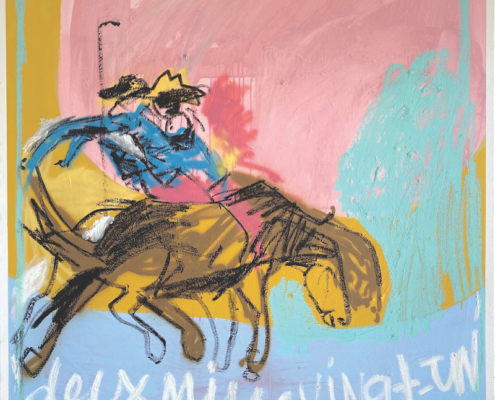 https://artedit.com.au/wp-content/uploads/2021/03/IMG_2392-copy-1.jpg
800
800
Maddy Matheson
https://artedit.com.au/wp-content/uploads/2021/09/AE29-web-logo-copy.jpg
Maddy Matheson
2021-03-05 14:44:27
2021-03-05 14:44:27
Gallery Panel: Jacob Pedrana
https://artedit.com.au/wp-content/uploads/2021/03/Anni-Hagberg-Flux-4.-Porcelain-raku-steel-stain-fibreglass-and-glaze-56x35x44cm-�2500.-Photography-by-Janelle-Low-1.jpg
761
761
Maddy Matheson
https://artedit.com.au/wp-content/uploads/2021/09/AE29-web-logo-copy.jpg
Maddy Matheson
2021-03-05 14:44:26
2021-03-05 14:44:26
Gallery Panel: Anni Hagberg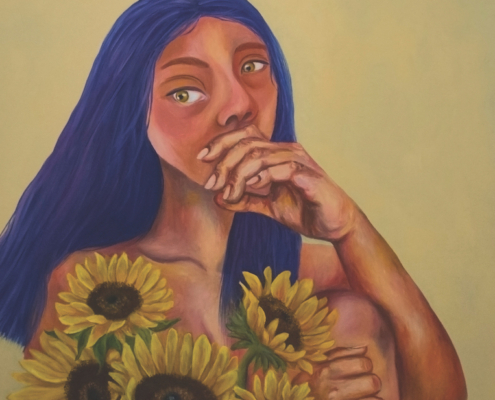 https://artedit.com.au/wp-content/uploads/2021/03/Phoebe-Kim-Ive-filled-me-up-with-sunflowers.-Oil-on-canvas-107-x-80cm-�2300.-Courtesy-the-artist-1.jpg
763
763
Maddy Matheson
https://artedit.com.au/wp-content/uploads/2021/09/AE29-web-logo-copy.jpg
Maddy Matheson
2021-03-05 14:44:26
2021-03-05 14:44:26
Gallery Panel: Phoebe Kim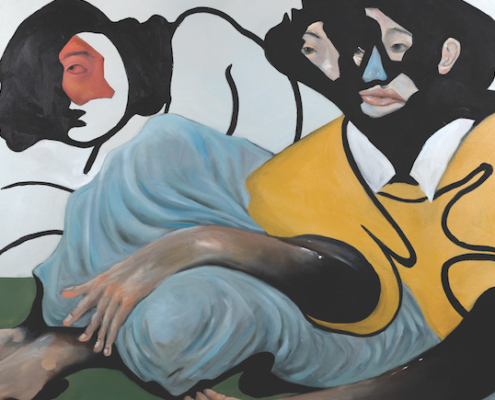 https://artedit.com.au/wp-content/uploads/2021/03/Future-projections-1-1.jpg
558
538
Maddy Matheson
https://artedit.com.au/wp-content/uploads/2021/09/AE29-web-logo-copy.jpg
Maddy Matheson
2021-03-05 14:44:06
2021-03-05 14:44:06
Gallery Panel: Robbie Motion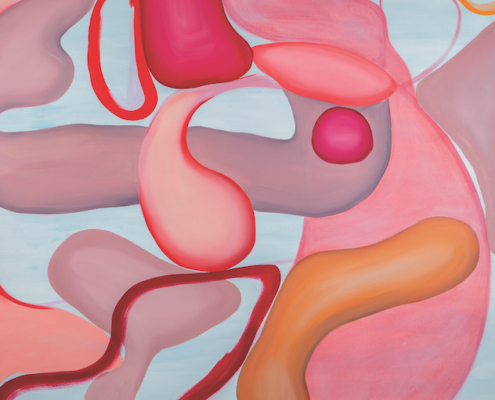 https://artedit.com.au/wp-content/uploads/2021/03/Isabella-Zammit-Untitled-3-2020.-Oil-on-canvas-72-x-84-inches-�2500.-Courtesy-the-artist-1.jpg
632
632
Maddy Matheson
https://artedit.com.au/wp-content/uploads/2021/09/AE29-web-logo-copy.jpg
Maddy Matheson
2021-03-05 14:44:06
2021-03-05 14:44:06
Gallery Panel: Isabella Zammit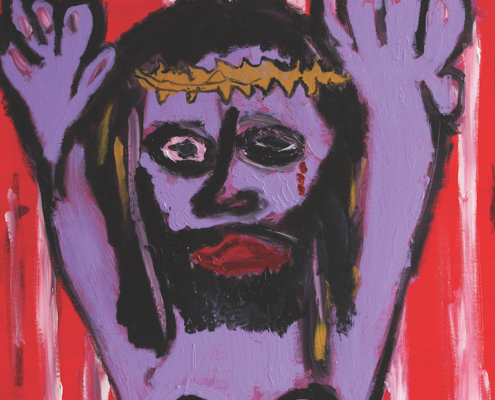 https://artedit.com.au/wp-content/uploads/2021/03/No-one-likes-a-Martyr-by-Cameron-Sollar-1.jpg
768
768
Maddy Matheson
https://artedit.com.au/wp-content/uploads/2021/09/AE29-web-logo-copy.jpg
Maddy Matheson
2021-03-05 14:44:06
2021-03-05 14:44:06
Gallery Panel: Cameron Leko Sollar
https://artedit.com.au/wp-content/uploads/2021/02/areyoufromnorthorsouth_600-677eefeb.jpg
716
600
Maddy Matheson
https://artedit.com.au/wp-content/uploads/2021/09/AE29-web-logo-copy.jpg
Maddy Matheson
2021-02-11 13:38:45
2021-03-11 20:54:35
Are you from the North or South?, painting by Phoebe Kim
https://artedit.com.au/wp-content/uploads/2021/02/chopsteak_600-bd188709.jpg
712
600
Maddy Matheson
https://artedit.com.au/wp-content/uploads/2021/09/AE29-web-logo-copy.jpg
Maddy Matheson
2021-03-08 13:34:53
2021-03-11 13:41:24
Chopsteak, painting by Phoebe Kim
https://artedit.com.au/wp-content/uploads/2021/02/untitled_b_600-342db913.jpg
749
600
Maddy Matheson
https://artedit.com.au/wp-content/uploads/2021/09/AE29-web-logo-copy.jpg
Maddy Matheson
2021-01-01 10:23:12
2021-03-13 10:23:10
Untitled, painting by Phoebe Kim
https://artedit.com.au/wp-content/uploads/2021/02/Sunflower_1000-e398bf43.jpg
1362
1000
Maddy Matheson
https://artedit.com.au/wp-content/uploads/2021/09/AE29-web-logo-copy.jpg
Maddy Matheson
2021-01-13 10:20:56
2021-03-13 10:22:19
Sunflower, painting by Phoebe Kim