Vieri Landini is an artist. No matter what form off art he works with, the object is creating. He is influenced by the imperfections of the world and seeing them in a different light to create beautiful artworks that start conversations.
Location: Sydney NSW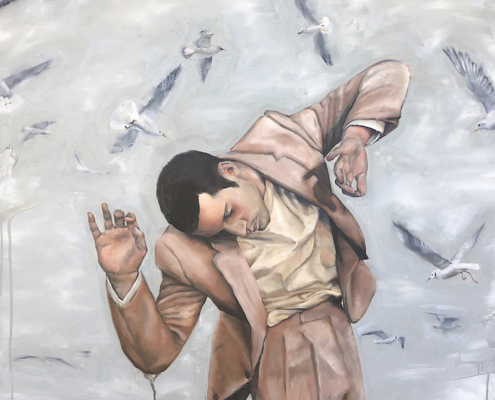 THE WORK: VIERI LANDINI, FLYING SOLO.
https://artedit.com.au/wp-content/uploads/2020/11/Vieri-Landini_Flying-solo.jpg
1005
800
Rose Leake
https://artedit.com.au/wp-content/uploads/2021/09/AE29-web-logo-copy.jpg
Rose Leake
2020-11-25 15:18:30
2020-11-25 15:18:30
Showcase: Vieri Landini
https://artedit.com.au/wp-content/uploads/2020/10/Violent-acts-of-beauty-scaled.jpg
2560
1859
Vieri
https://artedit.com.au/wp-content/uploads/2021/09/AE29-web-logo-copy.jpg
Vieri
2021-01-19 11:15:25
2021-03-25 11:36:02
Violent Acts of Beauty, oil painting by Vieri Landini
https://artedit.com.au/wp-content/uploads/2020/10/LPP.jpg
709
2067
Vieri
https://artedit.com.au/wp-content/uploads/2021/09/AE29-web-logo-copy.jpg
Vieri
2020-11-06 11:09:42
2021-10-22 14:23:32
Peace, Love and Prosperity, oil painting by Vieri Landini
https://artedit.com.au/wp-content/uploads/2020/10/3015298F-6D8E-4944-9278-4C2202BE0160-A293240E-4F2B-4EEA-B37D-2FA74C630F1F-scaled.jpg
1262
2560
Vieri
https://artedit.com.au/wp-content/uploads/2021/09/AE29-web-logo-copy.jpg
Vieri
2020-10-25 11:10:48
2020-11-06 11:11:27
Dusty Pink, oil painting by Vieri Landini
https://artedit.com.au/wp-content/uploads/2020/10/FACES.jpg
709
2067
Vieri
https://artedit.com.au/wp-content/uploads/2021/09/AE29-web-logo-copy.jpg
Vieri
2020-09-30 11:14:30
2020-12-07 19:45:41
Faceless, oil painting by Vieri Landini