Storybooks were the earliest artistic influence for Ruth Cadioli's work. They ignited a spark of imagination and creativity in her that to this day has not burned out. Her work is fuelled by imagination and belief in potentials: having faith in things and ideas not yet tangible. "A lot of the pieces are about the future and past simultaneously: they are depictions of an envisioned future that I long for, what I imagine it to be like based on nostalgic memories and experiences of the past.
I'm a big dreamer. I spend a lot of time thinking about how things COULD be rather than seeing them for what they are. These paintings are manifestations of the power of positivity: Just like the inspiration I felt as a child from reading storybooks I want to stir up a similar positive experience in others through my work. I hope they will become a source of inspiration."
Location: Brisbane, QLD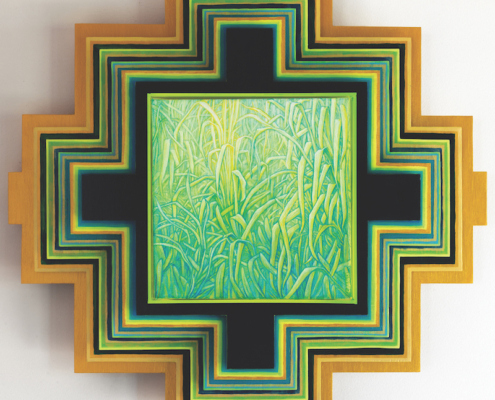 THE WORK: RUTH CADIOLI, GRASS PORTAL.
https://artedit.com.au/wp-content/uploads/2020/11/Ruth-Cadioli-Grass-Portal.-Acrylics-canvas-wood-and-ply.-56x56cm.-�1650.-Courtesy-of-the-artist-1.jpg
821
800
Rose Leake
https://artedit.com.au/wp-content/uploads/2022/03/AE31-web-logo-with-transparency.png
Rose Leake
2020-11-25 15:14:38
2020-11-25 15:14:38
Showcase: Ruth Cadioli