Brisbane-based artist Micah Rustichelli has been exhibiting work since 2016. Born and raised in South-East Queensland, Micah is inspired by the varied and tumultuous colours of Australia from coastal to desert. With a history in visual arts, contemporary dance and performance he is no stranger to multidisciplinary practices and has a flair for the expressive and theatrical.
Inspired by the duality between human nature and societal systems, Rustichelli observes life's common absurdities through a saturated lens. He is very interested in pulling apart and analyzing the standard systems and understandings that exist in modern society, their origins, and how they differ from an individual's instinctual wants and needs. By use of foundational research into the scientific, philosophical and psychological nature of people Micah explores the internal experience of humans that exists just beyond the tangible happenings of life.
This practice results in works that seemingly exist between reality and cerebral, the physical and the internal overlaid. By seeing the world through this dreamy lens Rustichelli is able to challenge his perspectives, to take daily life and make it into something strange waiting to be understood in a new way.
Location: Brisbane, QLD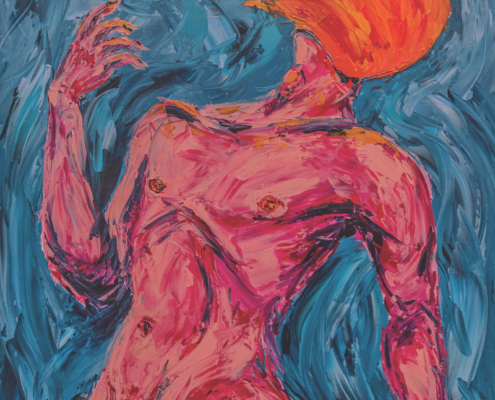 THE WORK: MICAH RUSTICHELLI, PANDEMONIUM I.
https://artedit.com.au/wp-content/uploads/2020/11/Micah-Rustichelli-Pandemonium-I.-Acrylic-on-Canvas-76.5x102cm-�1500.-courtesy-the-artist_2020.jpg
1071
800
Rose Leake
https://artedit.com.au/wp-content/uploads/2022/03/AE31-web-logo-with-transparency.png
Rose Leake
2020-11-25 15:24:05
2020-11-25 15:24:05
Showcase: Micah Rustichelli