Meli Axford has loved art for as long as she can remember but has only started painting in the last decade. She lives with her family in Northern NSW. Since 2014 she's been edging out more time for her art practice. Although she spent years thinking that painting was always something she felt she had to "work out on her own", she has now been learning advanced technique, through 10 terms with artist Ben Smith, and is continuously developing her individual aesthetic.
Axford is at the very beginning of her journey to become a full-time artist. In 2019 she built her own studio and now only works remotely, and part-time, as the Head of Design for an IT Start-Up in San Francisco. Her approach and ideas for art combine her knowledge of design, systems thinking and product development with her inherent creativity.
Axford enjoys painting people and places; her work is inspired by her own life experiences. She wants to evoke feelings of happiness, thankfulness and safety through her painting. She explores positive aspects of the "idyllic" Australian lifestyle in an aspirational way. Her recent success as a finalist in the Byron Art Magazine Art Prize 2020, has given her confidence to experiment further through the continuation of this pool series and refine her signature technique that explores vibrant colour. Her ultimate goal is to achieve a sustainable arts practice that documents her Australian lifestyle.
Location: Stokers Siding, NSW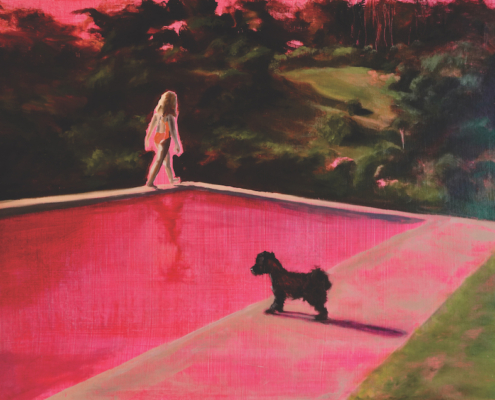 THE WORK: MELI AXFORD, PINK POOL.
https://artedit.com.au/wp-content/uploads/2020/11/MeliAxford_PinkPool_Oilonboard_406mmby508mm_�1000.jpg
637
800
Rose Leake
https://artedit.com.au/wp-content/uploads/2021/11/AE30-web-logo-1.jpg
Rose Leake
2020-11-25 15:25:05
2020-11-25 15:25:05
Showcase: Meli Axford
https://artedit.com.au/wp-content/uploads/2020/11/MeliAxford_HangingByThePool_Oilonboard_305mmby406mm_1445.jpg
1599
2048
Meli
https://artedit.com.au/wp-content/uploads/2021/11/AE30-web-logo-1.jpg
Meli
2020-12-03 13:52:27
2021-10-07 17:12:22
Hanging by the Pool, painting by Meli Axford
https://artedit.com.au/wp-content/uploads/2020/11/MeliAxford_HangingOutLikeDickAndJane_Oilonboard_305mmb6406mm_1445.jpg
1610
2048
Meli
https://artedit.com.au/wp-content/uploads/2021/11/AE30-web-logo-1.jpg
Meli
2020-11-21 14:11:32
2021-10-07 17:14:14
Hanging Around like Dick & Jane, painting by Meli Axford
https://artedit.com.au/wp-content/uploads/2021/10/meli_axford_man_made_2021.jpg
1018
1280
Meli
https://artedit.com.au/wp-content/uploads/2021/11/AE30-web-logo-1.jpg
Meli
2021-10-08 14:52:56
2021-10-08 14:52:57
Man Made, painting by Meli Axford
https://artedit.com.au/wp-content/uploads/2021/10/Meli_Axford_BodyPositive-scaled.jpg
2560
1967
Maddy Matheson
https://artedit.com.au/wp-content/uploads/2021/11/AE30-web-logo-1.jpg
Maddy Matheson
2021-10-27 10:21:48
2021-11-03 10:09:38
Body Positive, oil painting by Meli Axford